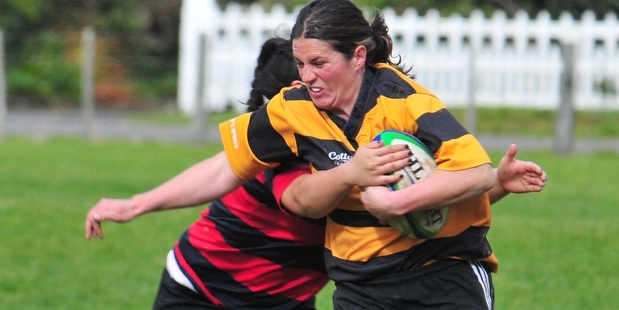 Reposted with permission from Gary Caffell- WAIRARAPA TIMES-AGE
Black Fern and dual World Cup winner Rebecca Mahoney admits she has never been short of words on the rugby field.
Especially when it comes to giving the referees some tips on how they should be officiating the game.
"I've always had plenty to say, and I can't ever remember being wrong," the affable Mahoney said yesterday.
Lately, however, the respect Mahoney has for those with the whistle has blossomed with the 30-year-old trying her hand in that sphere of the oval ball game.
"It's the old story. As a player you think you know everything, then you put the boot on the other foot and you realise you hardly know anything at all," Mahoney said.
Typically, the veteran of 17 appearances in the Black Fern jersey isn't wanting any favours as a referee. She is determined to start at the bottom and, "providing I am good enough", to work her way up.
"Just because I have been lucky enough to play internationally doesn't necessarily mean I will be a good referee …
only time will tell that. I'd like to get a few kids' games under the belt before I start thinking about going any higher. If I can't handle that then I won't be going anywhere, will I?"
Her foray into the refereeing ranks doesn't necessarily mean Mahoney's Black Fern career has come to an end.
Yes, she made herself unavailable for the national squad which was named yesterday to take on Australia, Samoa and Canada in the International Women's Rugby Series in New Zealand in June, simply because work and family commitments had reached the stage where she couldn't find the time – or the motivation – to undergo the extensive preparation required for such a programme but that may change in the future.
"Never say never. Who knows what might happen a year, or two years, down the track. I just might want to have another crack then."
And it's not as if Mahoney is totally giving up playing the game anyway.
She was part of the Eketahuna club side which started their 2014 Manawatu premier division campaign with an impressive 34-19 win over Kia Toa last weekend and sees herself as playing for them on a regular basis, a situation which would mean refereeing on Saturday mornings and then playing in the afternoons.
"Eketahuna club has been hugely supportive of me and it's all about giving something back to them. It's the least I can do."