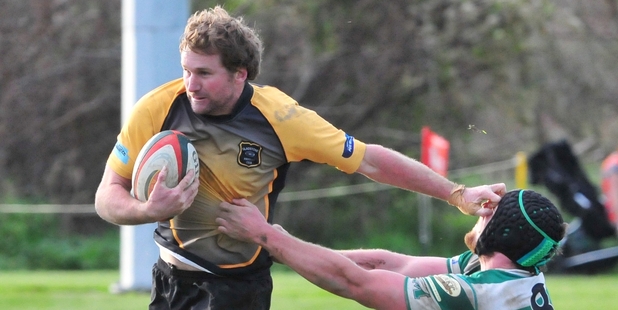 There were at least three major talking points to come out of Wairarapa Bush premier division rugby over the weekend.
Even before a ball had been kicked in anger came the news that the union's judiciary had decreed Pioneer should be deducted six competition points for fielding an unregistered player in their 20-13 defeat of Gladstone at Jeans St on May 24.
And conversely, that Gladstone should be allocated four points for what had ostensibly turned into a "win" for them.
It is intended a more detailed explanation of the judicial decision will be available for publication within the next 48 hours.
Going into Saturday's matches, the easiest result to predict in the Tui Cup championship had to be the match in Carterton where the home side, all alone at the bottom of the competition ladder, were up against pace-setters and defending champions Greytown.
This then was your true David versus Goliath affair and, yes, this too had a fairytale ending, with Carterton being outscored 3-1 on the try count but kicking enough goals to sneak home 22-21.
The combination of the loss of points by Pioneer, the gain of points by Gladstone and the shock defeat of Greytown meant, of course, that, depending on the results of the other three premier division games on Saturday, significant changes to the points table were on the cards … and so it transpired.
Eketahuna might have struggled to dispose of a brave Martinborough 17-7 but the four points they picked up were enough for them to displace Greytown in the number one spot.
Pioneer showed huge character and resolve to shrug off the disappointment of their judicial setback to beat East Coast 45-32 in a cracker of a game in which 10 tries were scored and, perhaps most importantly in the battle for the semifinal berths, Gladstone beat Marist 26-17 to sit in fourth place, now all of 6pts clear of the chasing pack.
Unofficial competition points are:
Eketahuna 37, Greytown 36, Pioneer 29, Gladstone 25, East Coast 19, Marist 13, Martinborough 12 and Carterton 9.
The draw for next week is: Eketahuna v Gladstone, Greytown v East Coast, Marist v Carterton, Martinborough v Pioneer.
By Gary Caffell – WAIRARAPA TIMES-AGE