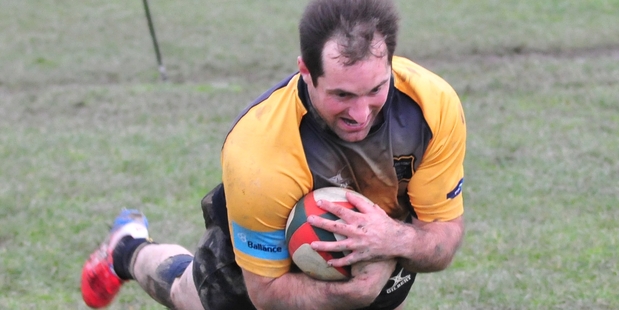 Eketahuna and Gladstone will meet in the grand final of the Wairarapa-Bush Rugby Union's Tui Cup premier division competition at Memorial Park, Masterton next weekend.
They clinched their spots in the highlight of the club season with hard-fought semifinal victories on Saturday, Eketahuna 23-15 over Pioneer at Eketahuna and Gladstone 14-3 over Greytown at Greytown.
Their latest success gives Eketahuna a royal opportunity to end their 125th anniversary year on the highest possible note. As top qualifiers from the two preliminary rounds they were generally regarded as warm favourites to claim Pioneer's scalp but the latter didn't make it easy for them in a game in which both sides scored two tries.
And their win also means Eketahuna have the chance to erase the memories of last year's grand final when they were on the end of a 47-15 beating from a rampant Greytown side.
While the overall form book might suggest Gladstone's defeat of Greytown on Saturday was a surprise, the reality was that in their two qualifying round games they had come up with a win apiece with the biggest winning margin being just three points.
On that basis the closeness of their struggle should have been expected.
Gladstone were deserved victors even though it could be fairly argued the end scoreline flattered them to a degree.They scored the only try of the match and produced some of the most tenacious defence witnessed in a club game all season.
For Greytown, of course, it meant their dreams of a Tui Cup three-peat were over – having also won the trophy in 2012 – but, like Pioneer, they earned plaudits for what was still a spirited performance on their behalf.
Eketahuna have taken the honours in both of their previous matches with Gladstone this season, winning the first 28-3 and the second 15-8.
Two other series of semifinals were also played out on Saturday. In the Hodder Steffert premier division plate competition East Coast ran in six tries in disposing off Marist 45-17 while Martinborough managed four tries in their 25-17 win over Carterton.
The 25 points scored by Nick Olson for East Coast saw him rocket to the top of leading points scorers in premier division rugby this season. He now has 133 points, 2 points more than Eketahuna's Tom Meuli.
Both semis in the Ryan Cup senior reserve top four competition were tense affairs with the results in doubt right until the final whistle. Pioneer bounced back from their defeat at the hands of Greytown the previous weekend to beat them 29-26 and they will play Martinborough in the final after the latter edged out Eketahuna 13-12.
By Gary Caffell – WAIRARAPA TIMES-AGE