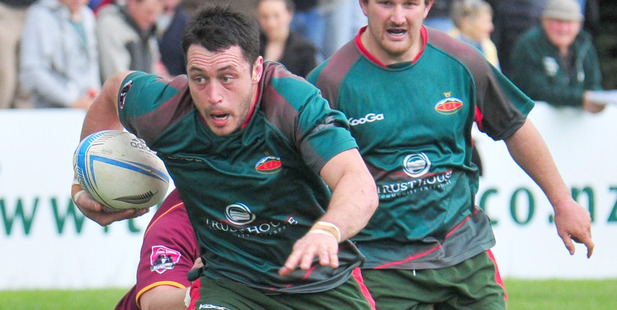 Wairarapa-Bush will need to be wary of King Country when they open their 2014 Heartland championship rugby campaign at Taupo tomorrow.
Eketahuna FM will have live commentary from Owen Delany Park, Taupo
Trust House Wairarapa Bush vs King Country

on www.radioeketahuna.co.nz Or 106.5 FM from 2pm
this Saturday 23rd August2014
HEARTLAND CHAMPIONSHIP MATCHES
Head-to-head matches: KING COUNTRY – WAIRARAPA
21.09.13

Wairarapa

King Country

34 : 13

29.09.12
King Country

Wairarapa

15 : 25

23.10.10
King Country

Wairarapa

17 : 21

16.10.10
Wairarapa

King Country

22 : 43
Put bluntly, King Country are no mugs. Coached by Kurt McQuilkin, who is also coach of the national Heartland side, they only lost to Wanganui by a solitary point in a lead-up game and are said to be a stronger unit than they were last season when they improved their seeding by two places on the previous two seasons. That was after winning three of their first four games, including the scalps of both 2012 Meads Cup finalists East Coast and Wanganui, only to drop their last four and finish the round-robin in ninth place.
Even a cursory glance at the King Country line-up shows they have strength in key positions. Up front, skipper Brian Mansfield (41 caps) is an experienced prop who will anchor a solid scrum, lock Gene Waller knows all the tricks of the trade and has the height (1.94m) to be a presence at lineout time and No 8 Anthony Wise is an ex-Fiji international who has played at the top levels for Waikato. He scored four tries for King Country last season and is one of their main attacking weapons.
First-five Whakataki Cunningham was King Country's leading point-scorer last season and is considered to be one of the best tacticians in the Heartland competition. Halfback Roy Simpson has more than 30 games for his province under his belt and winger Dean Church has a good mix of flair and pace.
That the opposition offered by King Country will be light years ahead in quality of that received from Poverty Bay in Wairarapa-Bush's most recent lead-up game is an absolute given. Yes, there was a lot to admire about the intensity and efficiency of the Wairarapa-Bush performance but it would be a huge surprise if they repeated the 71-0 scoreline here.
That victory over Poverty Bay, and earlier wins over Horowhenua-Kapiti and Manawatu development squad, has, however, given Wairarapa-Bush a flying start to their 2014 season and there is no reason not to expect them to thwart the King Country challenge as well, albeit with a greater degree of difficulty.
Greytown prop Kurt Simmonds will lead a Wairarapa-Bush pack which promises to be one of the most mobile fielded by this province for some seasons. Simmonds and fellow front rowers Richard Puddy and Finnbarr Kerr-Newell all relish any chance to get their hands on the ball and the same can be said for locks Andrew McLean and Joe Beech, the latter getting the nod over Sam Marshall-Wilson for a starting spot. This is an interesting call as Marshall-Wilson is probably the more physical of the two but no doubt he will get his chance to make an impact in the second half.
The pace and assertiveness of their loose forwards should be one of Wairarapa-Bush's main attributes. Flankers Rima Marurai and Andrew McWhirter and No 8 Tom Fleming have all been in grand form, so good, in fact, that the loss of high calibre loosies from last year's squad like Johan van Vliet, James Goodger and Nathan Iro is hardly mentioned these days.
In the backs, Zeb Aporo has edged out Inia Katia as the starting halfback, outstanding playmaker Sam Monaghan will be at first-five and Byron Karaitiana and Paul Tikomainavalu make up the midfield. Their contribution will be vital as with noted attackers in Cameron Hayton and Nick Olson on the wings and Ben Aoina at fullback any momentum they can create should mean points on the board. Aoina, of course, can also be expected to shine in the goal kicking department where he has shown himself capable of picking up points from anywhere in opposition territory.
Whichever way you look at this game, you have to be bullish about the prospects of Wairarapa-Bush coming away with maximum points but, with that confidence comes a warning, take King Country lightly at your peril.
By TrustHouse Wairarapa-Bush Web Admin & Gary Caffell – WAIRARAPA TIMES-AGE
---