23 August 2014
Sth Canterbury 31 v 18 Wanganui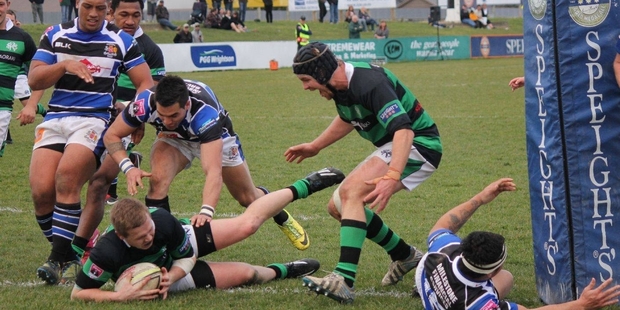 They have been brought in to shore up the team's greatest vulnerability but with no continuity established yet, backline struggles remain the biggest detriment after Steelform Wanganui were well beaten 31-18 by South Canterbury in their opening Pink Batts Heartland match on Saturday.
As the team's new internal organs are their lineup of imports from jersey's No 10 to 13, the blood wasn't pumping as Wanganui struggled in the first half and were looking down the barrel after conceding three tries to embarrassingly trail 24-0 at the break.
It appeared the same team virus that blighted 2013 as coach Jason Caskey said there was far too much "passiveness" in defence and little cohesion on attack, meaning they once again had to chase down a large deficit once they finally woke up at Alpine Energy Stadium.
Sadly for the returning coaching regime, as well as being the first loss to South Canterbury under the Heartland format, Saturday's 13-point losing margin was larger than any of Wanganui's defeats last year under their predecessor Karl Hoskin, when they also gave away starts.
"It's obviously something that we have to stamp out. I just don't know why the motivation wasn't there in the first half," said Caskey yesterday. "We didn't turn up, to be fair.
"It was a couple of soft tries. If we'd kicked some of the points that were available to be in with a chance, but we didn't deserve to be.
"Midfield defence, we were caught out a couple of times.
"We were unorganised in the backline but that was to be expected. Between Josh [Hamilton], Rhema [Sagote] and Tevita [Taufu'i], they haven't spent a lot of time together."
Wanganui lost lock Sam Madams to the sin bin six minutes before halftime for dragging a maul down inside Wanganui's 22m.
A South Canterbury player also got a yellow late in the game, as Wanganui did rally in the second half to score tries through hooker Cole Baldwin, winger Jaye Flaws and reserve lock Lasa Ulukuta, as they had the better of the final 25 minutes.
However, they had left themselves too much to do.
Hamilton was able to add only a penalty, while South Canterbury's goal kicking centre Paula Fifta, who came to that province from Tonga last year, filled the role of the departed Liam Edwards with a 16-point haul from a try, penalty, and all four conversions. Fellow backs Jared Trevathan, Erenimo Tua and Kurt Rooney scored the other five-pointers.
On the plus side, Caskey was happy with how the lineout combination functioned with Baldwin throwing in for Madams and Sonny Woodmass, as Wanganui won the majority of their possession and stole a couple off South Canterbury.
It was also a relief that unlike 2013, there were no major injuries to report after the opening game, with all players expected to be available for selection for the first home match against Horowhenua-Kapiti this coming weekend.
First on Caskey's mind will be trying to pull an honest 80-minute effort out of squad, as while the opening weekend of the competition provided a couple of surprise results, winning right from the start of the campaign is mandatory if hopes of a return to the Meads Cup playoffs are to be realised.
"It doesn't make life easy at all."
South Canterbury 31 (Jared Trevathan, Erenimo Tua, Paula Fifta, Kurt Rooney tries; Fifta 4 con, pen) bt Wanganui 18 (Lasa Ulukuta, Jaye Flaws, Cole Baldwin tries; Josh Hamilton pen). HT: 24-0.
---