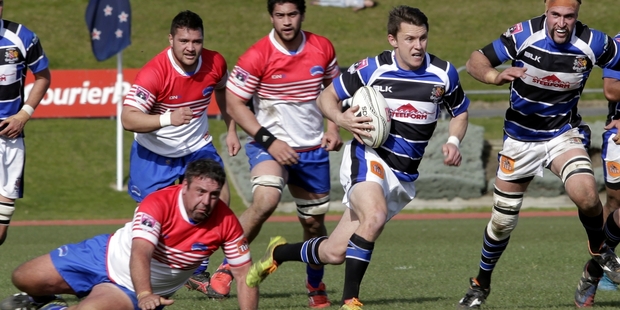 30 August 2014
Wanganui 23 v 34 Horowhenua Kapiti
There are no excuses.
Steelform Wanganui's 34-23 defeat to minnow Pink Batts Heartland neighbours Horowhenua-Kapiti was not a case of being slow starters, missed kicking opportunities or crippling injury toll.
On the day, it was a case of not being good enough.
Taking the Bruce Steel Memorial Cup back down the road to Levin, Horowhenua-Kapiti dealt out a lesson in controlling phases, backline co-ordination and being hungry for the ball at every breakdown.
Wanganui were lucky to trail by only five points at halftime after first-five Josh Hamilton adapted better to the kicking conditions than his opposite Hamish Buick, who swap the role back and forth with more accurate centre Perry Hayman, depending on their leg injuries.
One avenue the visitors were truly dominating was through the three-quarters where Perry, his fellow Wellington-import partner Luke Harvey, fullback Michael Tambour and tryscoring winger Sani Ulu-Kini overwhelmed Wanganui's midfield pair of Rhema Sagote and an out-of-depth Tautahi Rawiri.
Rookie wingers Jaye Flaws and Clive Stowers were put under continous pressure and with the exception of Flaws claiming the visitor's chip kicks, both were found wanting on defence as Perry, Tambour and Ulu-Kini ran hard into gaping holes.
Despite those lapses, the deficit was closed to two points through Hamilton as jaded home supporters waited for a customary revival, but from that point Wanganui completely lost steam across the park as Horowhenua-Kapiti turned up the pressure valve and unlike 11 months before in Levin, put their shattered opponents away.
Hamilton and halfback Lindsay Horrocks sent out some shocking passes, while there was a mounting penalty count in the ruck as lock Sam Madams and his fellow forwards were caught repeatedly trying to steal anything back by referee Shukei Kubo.
With the breeze behind them, Perry was painfully accurate with his goalkicks while Buick and Tambour put in some booming clearances.
Horowhenua-Kapiti should have pushed for a bonus-point try but Harvey, snapped off a short-range drop goal with four minutes left.
Wanganui No8 Tremaine Gilbert would slip across for his second try, set up by a good chip-and-regather from reserve fullback Dane Whale, but it was hardly even consoling.
"We talked about our [backline] communication and filling space, but it wasn't effective," said frustrated coach Jason Caskey. "Maybe there will be changes because they can't keep fronting up like that."
Hamilton opened the scoring with a 40m penalty as Buick couldn't buy a kick in his first three attempts.
A crucial moment came in the 13th minute as Wanganui flanker Andrew Evans spilled the pass with the line begging and the visitors counterattacked with a beautiful run and pass by Tambour sending Ulu-Kini off for a 75m try.
Wanganui rebounded when Hamilton set off on his only run of the match, with Evans recovering the knocked down pass before prop Lasa Ulukuta hit it up and Gilbert dived low through two tackles to score.
But five minutes later, Perry dashed outside Rawiri and fed Tambour, who ran around Flaws and swept to the line, with props Kurt Jackson and Ha'amea Ahio combining for Ahio to dive over.
Perry nailed the sideline conversion and then Buick kicked a penalty for 15-10 after 28 minutes, which Perry extended to 18-10 nearing the break.
Wanganui responded with a 20m drive from a free kick lineout and were unlucky not to get a penalty try when desperate defence dragged down Ulukuta's attempt at the line, Hamilton adding the three points.
The Taranaki import, who had only managed one kick from numerous attempts last week, closed the gap to two just after the resumption, but then the one-way traffic resumed.
Hayman landed a 41m effort while Hamilton had his only miss, then Horowhenua-Kapiti No8 Lennon Carrington went blindside when there seemed nothing on yet brilliantly got his overhead pass to winger Rob Millar, with Hayman again converting from the sideline.
Hayman added another three points and Harvey a drop kick for 34-16 before Gilbert's second try with three minutes left.
Horowhenua Kapiti 34 (Sani Ulu-Kini, Ha'amea Ahio, Rob Millar tries; Perry Hayman 2 con, 3 pen, Hamish Buick pen, Luke Harvey drop goal) bt Wanganui 23 (Tremaine Gilbert 2 tries, Josh Hamilton 2 con, 3 pen). HT: 18-13.
By Jared Smith – WANGANUI CHRONICLE