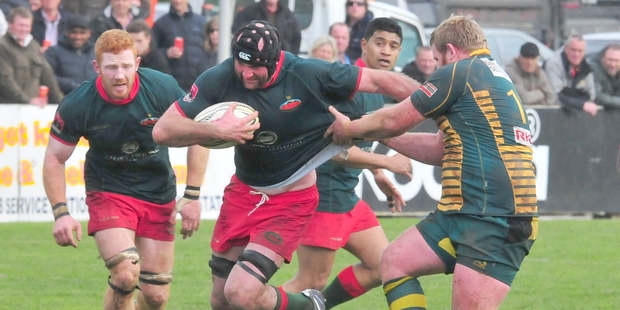 30 August 2014 @ Masterton

Wairarapa Bush 23 v 23 Mid Canterbury

Deflated with a capital D.
That would pretty much describe the feeling in the Wairarapa-Bush squad after their 23-23 draw with Mid-Canterbury in the Heartland Championship rugby match at Memorial Park, Masterton on Saturday.
Starting as rank underdogs against the defending Meads Cup holders after a walloping from King Country in Taupo seven days previously, Wairarapa-Bush looked to have an upset win in the bag when leading 23-16 with just a couple of minutes remaining on the clock.
Then Mid-Canterbury launched a last ditch attack, the ball was spread wide, the home team's cover defence was caught napping and replacement Andrew Smith crossed for the try in the corner.
All eyes now centred on Mid-Canterbury first-five Murray Williams whose conversion attempt from 22m out and right on the sideline could see his side escape with a draw and his kick was a beauty, sailing between the posts and ensuring the spoils would be shared.
Frustrated as they were at the end result there were enough pluses in this Wairarapa-Bush performance to suggest their Heartland campaign is back on track after the Taupo experience.
The forwards constantly rocked their much-vaunted Mid-Canterbury opposites with the intensity and assertiveness of their play. Whereas retention of possession had been one of the big bugbears against King Country it was one of their greatest attributes here with considerable metreage being made through both the "pick and go" and the rolling maul.
Inspirational in those areas were the Gladstone duo of lock Andrew McLean and hooker Richard Puddy. They both featured in several rampaging bursts with ball in hand. McLean's partner in the middle row, Sam Marshall-Wilson, also relished any opportunity to stretch his legs as did prop Kurt Simmonds and blindside flanker Johnie McFadzean. The latter also made a big impact with his close quarter defence as did No8 Tom Fleming.
The combination of Puddy as thrower and McLean as jumper ensured Wairarapa-Bush generally managed to attain their own lineout ball without too much difficulty and while the scrum was on the back foot at times they also had their moments of superiority in that department.
If there was a blip in the Wairarapa-Bush forward effort it was the number of penalties they conceded, particularly in tackle situations and particularly in the first half.
They and Mid-Canterbury for that matter, were obviously bemused at many of the rulings from Otago referee James Doleman with the home crowd reserving their biggest cheer of the day for Doleman when he saw fit to give their side a penalty about mid-way through the second spell – as if it was their first of the match
For the Mid-Canterbury pack their best periods came 10 minutes before the end of the first half and the 10 minutes immediately after it.
It was then they won enough quality possession for their hard-running backs to strut their stuff and they went from trailing 13-9 at halftime to leading 16-13 through a converted try in the 46th minute to wing Seta Koroitamana. Locks Logan Bonnington and Eric Duff were industrious in the tighter exchanges and Tevita Ula lively in the loose.
It was a mixed day for the Wairarapa-Bush rearguard. The lack of surety in their decision-making meant their attacking capabilities were not always put to good use although one could admire the determination of Robbie Anderson, having his first start at this level, whenever the ball came his way in midfield. The versatile Inia Katia was typically elusive, first on the wing and then later at halfback.
As it happened, that duo were also two of Wairarapa-Bush's better defenders, an area in which the structure was not always as good as it should have been.
The Mid-Canterbury inside combination of Will MacKenzie and Murray Williams called the shots impressively for their side with the ability of Williams to find open spaces with his tactical kicking being a feature of his play. Midfielder Peni Manuwanuiliwa was never afraid to go hard and straight on attack, often dragging a couple of defenders with him.
Sam Marshall-Wilson and Andrew McLean were the Wairarapa-Bush try-scorers.
By Gary Caffell – WAIRARAPA TIMES-AGE
---