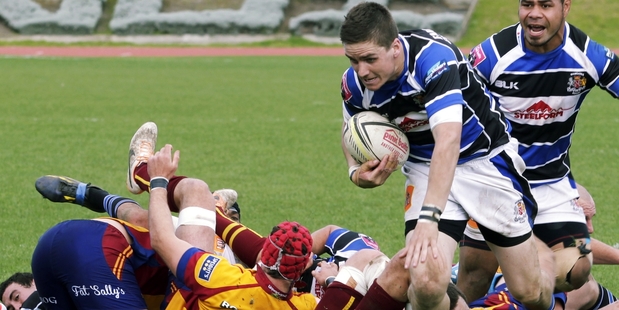 If there is any enemy the Steelform Wanganui team must be wary of before taking the field in Ashburton tomorrow, it's the one who looks back at them from the mirror.
After the rejuvenation of their Pink Batts Heartland Championship campaign in the victory over North Otago when their backs were against the wall at Cooks Gardens last Saturday, the foot cannot lift one millimetre from the pedal as Mid Canterbury will represent 2014's toughest away match outside of any playoffs appearance.
While the defending Meads Cup champions sit middle of the table, they had to fly and bus for tough back-to-back games in the North Island and will relish playing at the Ashburton Showgrounds for the first time in a fortnight.
"Enough of us have been there before and we've won our fair share of games too," said coach Jason Caskey. "It's a big task, but nothing's changed in the last 6-7 years there."
Mid Canterbury will likely also be determined to put on a good performance for their community in the wake of the mourning following the shocking Ashburton Winz office shooting on September 1.
Wanganui proved last week they can mentally lift as a squad for the big occasions, but what is clear is the playmaking contingent must put together a consistent effort rather than being clinical one minute and reckless the next.
Caskey had been concerned with some of the decision making last Saturday, such as fullback Josh Hamilton and halfback Lindsay Horrocks forgetting passes back into the 22m can't be kicked out, or those times when instinct takes a player to the left when they should go right.
Likewise, while new first-five Dane Whale came up trumps with his line breaks, what could be a virtue in one match can also stifle his outside backline the next if the young man gets isolated by prepared defence.
Caskey said the playmaking group was "well aware" of last week's frailties, which had been discussed but not harped on so as to avoid adding to the pressure.
"Sometimes you've got to give up a bit of flair to get an all-round game. You can't expect a [Whale], who hasn't got a lot of experience at that level, to not make a mistake."
Consistency won't be easy given injury has forced Wanganui to go into the match with their third different winger combination in as many games.
Veteran Ace Malo's AC joint will rule him out for two weeks, while Simon Dibben's fractured rib will be at least four games.
Zyon Hekenui and Jaye Flaws get promoted from the bench, in a chance for redemption for Flaws who was not used last Saturday.
Meanwhile the speedy Samu Kubunavanua, who journeyed to Utiku Old Boys from Fiji this year, is promoted after good form in the Development team.
Reserve halfback William Short rejoins the 22, while the other big change is prop Kamipeli Latu starting, with Lasa Ulukuta moving back on to the bench ahead of Viki Tofa.
Wanganui's scrum struggled late against North Otago and Caskey said while Ulukuta is the strongest ballrunner, Latu's fitness meant he brought more workrate to other areas.
"[Ulukuta and Tofa's] probably a bit more inclined to run with the ball, but we're getting the right mix between them," said Caskey.
Mid Canterbury do not lack high-powered personnel.
First-five Murray Williams has Super Rugby experience with the Chiefs and ITM Cup appearances for Auckland and Bay of Plenty, having kicked the winning penalty for the Heartland union to upset Southland 40-38 in the preseason.
There are also the likes of ex-Canterbury halfback Jake Ashby, former Canterbury and Tasman winger Matt Thatcher and ex-Otago back Dwayne Burrows, along with former Northland and Otago prop Scott Vessey.
Wanganui fly from Palmerston North to Christchurch at 10am today, and will stay the night in the city before travelling the hour south for a walk-through at the Showgrounds before tomorrow's kickoff at 2.30pm.