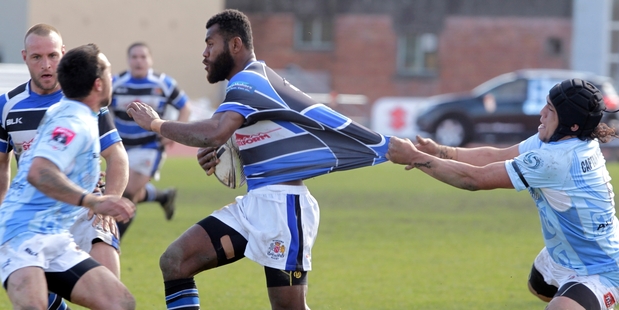 Tight competition for front row spots and an attacking loose forward combination with something to prove are the big features of the Steelform Wanganui team who must find a way to win on the road tomorrow afternoon in Greymouth.
Facing the longest Pink Batts Heartland journey of 2014 as they fly from Palmerston North to Hokitika today and bus up to Greymouth by 4pm, Wanganui are preparing to face a West Coast team who are not performing like the side who made the 2013 Meads Cup play-offs, but nonetheless represent an awkward challenge.
Although winless, the Coasters have shown improvement in their last three games, including narrow bonus-point losses to Horowhenua Kapiti and Thames Valley.
Disappointed to have 30-plus points put on them by South and Mid Canterbury on their last trips, Wanganui coach Jason Caskey fumed to southern media after the loss in Ashburton that players were still getting strapping sorted at warmup time despite having two hours at the hotel beforehand to begin preparations.
"I think some of those guys don't realise the challenge," he said.
"That's what makes a good team, to perform at home and on the road.
"It's a learning curve for some of these young fellas. [The veterans] can only talk so much, so guys have to front up."
In response to the happy quandary over which in-form loose forwards to start after they dominated East Coast last weekend, Caskey has rewarded Lasa Ulukuta for his dynamic match after switching from prop, with recovered Bryn Hudson moving to blindside flanker and Andrew Evans to the bench.
Caskey will hope Ulukuta, who played for West Coast from 2004-8, can lift against his former mates, especially after they got the bragging rights last year against him, 25-24 at Cooks Gardens.
Comments made post-game by the Coasters said Ulukuta probably could not have made their team on his form.
"I don't think there's too many Heartland teams that wouldn't have Lasa in there if he's fit," said Caskey.
"Lasa really stepped up last week. At the start of the season, we said we wouldn't play him at No8 because his fitness wasn't there.
"[But] we can't expect him to get fitter and fitter if he's only playing 40-50 minutes."
The other key decision will be the composition of the front row, with both hookers, Cole Baldwin and Roman Tutauha, bracketed before last night's training, while Kamipeli Latu looked eager to make an impact when he came on for Shaun McDonough against East Coast.
"There's a couple of different combinations, it depends who starts in one spot that starts in the other," Caskey said.
While Zyon Hekenui will be away on NZ Heartland U19 duties, Wanganui has welcomed back veteran fullback Ace Malo from injury, alongside reserve winger Simon Dibben, who has made a remarkable recovery from a rib injury.
Outside backs may be at a premium because as well as Hekenui's absence, Tautahi Rawiri suffered injured rib cartilage playing for the Development XV last weekend.
"[Dibben] should be good. He feels like he's up to it," said Caskey.
The Coasters have also lost two bolters to the Heartland U19s – flanker Logan Winter and utility back Josh Costello – yet they can call on veterans first-five Tim Priest, winger Malali Mudu and 50-game flanker Alan Monk.
They have a handful of loan players from Canterbury such as front rower Lolesio Lavea and No8 Suamalie Tuiletufuga.
The game will have an earlier kickoff at 1pm to allow Wanganui to travel to Westport to join Horowhenua Kapiti, who play Buller, on a shared flight home.