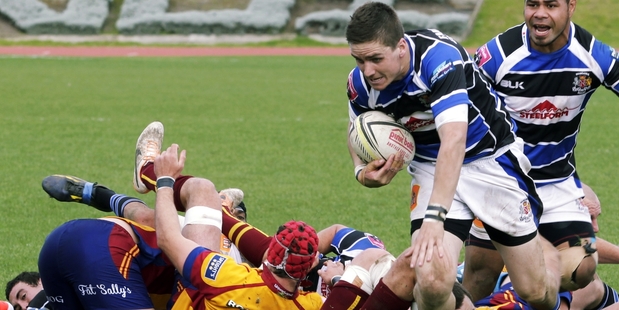 Both Taranaki men have departed and it will fall to the locals to save Steelform Wanganui's faint hopes of playoff rugby in 2014 against Wairarapa Bush at Cooks Gardens tomorrow.
As well as powerhouse loose forward Bryn Hudson's departure with knee ligament damage, the axe has been swung on first-five/fullback Josh Hamilton, with Dane Whale moving back to run the cutter.
Head coach Jason Caskey was in transit from Waverley to Cooks Gardens for training yesterday afternoon. He had also missed Tuesday night's training with a cold he brought back from a sodden Greymouth.
However, following Caskey's sentiment after the 23-17 loss to West Coast that they lacked clear decision-making at No10, backs coach Jason Hamlin confirmed they were looking to the future with Whale, while Zyon Hekenui will also return next week from the NZ Heartland Under 19s.
While Hamilton arrived as 2014's top points scorer in Taranaki club rugby, he had some groin problems and was simply not kicking the goals.
"We didn't think we were getting enough out of Josh as a loan player," said Hamlin yesterday.
"This year we're close but we're not quite there. We've got to go back and sort it out."
Whatever happens in the next two weeks, tomorrow will definitely be Wanganui's last home game of the Pink Batts Heartland Championship. Hamlin said that, despite all their struggles, training on Tuesday night was still upbeat.
"I spoke to them and said we're not where we want to be. Let's go and sort this one game out." They will carry walking wounded as, with Hudson gone, Lasa Ulukuta will be sorely needed. Given his hamstring, he is being bracketed at No8 with Tremaine Gilbert right till kick-off.
"We're probably trying to give him as much time as we can," said Hamlin.
Marton's Lake Ah Chong joins the team as back-up while, after waiting patiently, Pirates and Development XV player Faa'lafi Vave gets his chance as reserve loose forward.
"He's been the unfortunate one to miss out," said Hamlin.
While still not quite 100 per cent with his rib injury, Simon Dibben moves into the starting wing position. Hamlin is hoping everyone comes through tomorrow as they go without a specialist midfield back reserve.
"I was hoping Tautahi [Rawiri] would be right to give us more variation, but he's not."
Wairarapa Bush have likewise had a 2014 to forget.
Handed a good travel schedule after making last year's Meads Cup semifinals, whereby they only had to travel to the South Island once, the Bush's only bright spots were the 23-23 draw with Mid Canterbury and last weekend's come-from-behind 20-18 win over Thames Valley, both home games in Masterton.
Otherwise, losses to King Country (32-13), South Canterbury (43-16), Poverty Bay (23-10), and Horowhenua Kapiti (12-9) have made for a tough year.
Even last week, it was Thames Valley's David Harrison having a shocker with the boot, which allowed the home side to sneak ahead in the final quarter, through tries by first-five Ben Aoina and fullback Sam Monaghan.
Hooker Richard Puddy played his 50th game and is a good toiler. Kick-off is 2.30pm.
By Jared Smith – WANGANUI CHRONICLE