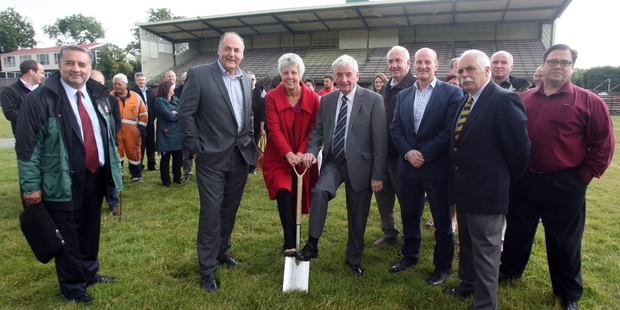 Rugby fans are being offered a slice of Memorial Park history as the Masterton rugby ground is redeveloped and upgraded with state-of-the-art 3G artificial surfaces at a cost of about $2.2 million.
The grounds, originally a memorial for soldiers, will then cater for many sporting codes including rugby and football.
This weekend, from Friday, people can pop along to the Dixon St park and for $100 pick up a square metre of the grass surface to take home and plant.
The prized middle section of the park will be auctioned in coming months and is expected to fetch about $1000.
Yesterday, Wairarapa Bush Rugby Union chairman Paora Ammunson, Masterton mayor Lyn Patterson and Heartland Wairarapa chairman Bob Francis announced the formation of the Wairarapa Multi Sports Stadium Trust to commence the redevelopment of Trust House Memorial Park.
The makeover will include an artificial surface and stadium lighting, grass embankment at the northern end and redesigned fence lines and footpaths.
Included in the $2.2 million redevelopment are the public amenities and grandstand which will be repainted and upgraded.
"Memorial Park has been an integral part of the Wairarapa sporting map and hosted many famous rugby and sporting events over its long history and today is another part of its history," Mr Ammunson said.
It is the first sports facility of its kind to be developed in the country, he said.
"The redevelopment will be the first in New Zealand where provincial teams will compete at a national level on state the art 3G artificial surfaces."
The Wairarapa Multi Sports Trust Board will be made up of people from the local community and includes Rex Playle, Paora Ammunson, Bob Francis, Jonathan Tanner, Jenny Gasson and Pim Borren, and one further trustee to be nominated. Wairarapa Bush Rugby Union will manage the venue. "There were many people involved in bringing this project together."
Mr Ammunson also acknowledged the support of Trust House directors and the great support by the late Craig Cooper, who he knew would have loved to have been at the announcement.
A project of this size has not been attempted anywhere else in New Zealand.
As for the sod-turning day yesterday, it was about time, he said. "It's slightly surreal but we are thrilled."
Mrs Patterson said the facility was a huge plus for Wairarapa.
"This region is the home of rugby … I'm pleased Heartland football are on board. This is a big bonus for the region," she said.
Bob Francis said the grounds would place the stadium up with the rest of the world's top class sporting grounds.
"This is massive for football to have a surface that will be of national and international standard … It's something to be proud of."
The recent Scotland versus Tonga IRB rugby test match played in Kilmarnock was on a 3G artificial surface in front of 25,000 people, and is testament to where sporting facilities are heading around the world, Mr Ammunson said.
Cardiff Arms Park and Twickenham have also started to move towards artificial fields with hybrid fields being built which is a mixture of grass and artificial turf.
Already $2 million has been committed to the project with Trust House, the Masterton District Council and the Lottery Grants Board contributing $1.75 million collectively.
The balance will be raised by May 2015, with the Wairarapa community invited to take part.
Bookings were already rolling in for the park for 2015 with 2000 players a week expected to use the new facility, said Wairarapa Bush Rugby Union chief executive Tony Hargood.
Park usage is expected to increase from five per cent to 40 per cent at similar or less cost than currently paid.
Night rugby and football are planned with the Friday night timetable already booked out. College and schools sports are planned for Wednesday and Thursday nights.
The project will start today and will be completed by April 2015. Opening night is planned for Anzac weekend to commemorate 100 years since the World War I Gallipoli campaign.
By Cherie Taylor – Wairarapa Times-Age
---