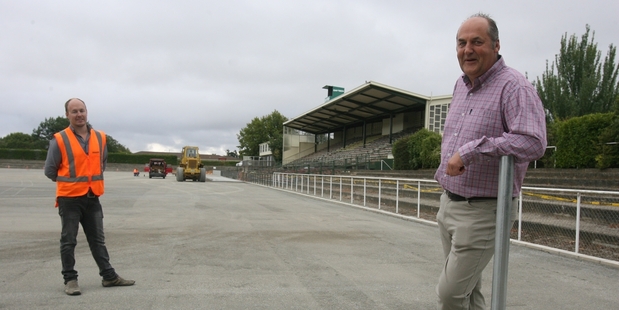 Anybody who thought the $2.1 million being spent on the construction of the artificial turf at Memorial Park in Masterton would be a waste of money because the usage would not be great enough to justify the expense had better think again.
In 2014, the usage on the number one ground amounted to about 100 hours over the whole year; a figure which will be bettered within the first four weeks when the new surface is commissioned and ready to play on by mid-April.
The major reason for the sudden increase in popularity is not hard to fathom.
With the advent of the artificial turf, the ground will become multi-purpose with rugby and football both using it on a regular basis.
And adding to its attraction is that lights are also in the process of being installed, meaning games from either code can be played well into the evenings.
"The bookings have been terrific, we are just about chokka," Wairarapa-Bush chief executive officer Tony Hargood said yesterday. "We're absolutely stoked with the response we have been getting, it's every bit as good as we ever expected."
Hargood said there would be occasions when rugby and football matches would be played on the new surface on the same day, something which was possible because the goalposts required for either code could be easily moved and replaced.
"There are times when we are going to have Central League football and premier division club rugby games following each other, and I think the novelty of that will be very appealing to the local sporting community," Hargood said.
"The two codes are working together well, everything is going pretty much according to plan."
The same can be said with the construction process. A brief visit to Memorial Park yesterday showed that the infill was complete with the 2.4km of drainage expected to last for the best part of the next century.
Next will come the installation of the shock pad and then will follow the laying of the turf.
Also involved in the makeover are the development of a grass embankment at the northern end, the concreting of paths directly around the No 1 ground and the repainting and upgrading of the grandstand.
Plans are to have the official opening of the new turf on Anzac weekend to commemorate 100 years since the World War I Gallipoli campaign and, while the feature match that night has still to be announced, Hargood guarantees – "it will be well worth going to".
By Gary Caffell – Wairarapa Times-Age