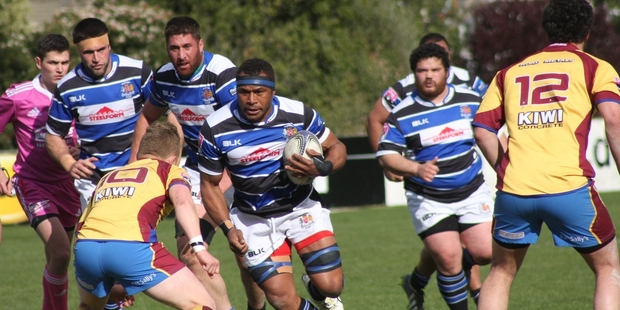 STEELFORM Wanganui have secured perhaps their most emphatic victory in three seasons of the Pink Batts Heartland Championship after they drove their great rivals North Otago off the park in Oamaru in a 40-10 belting on Saturday.
The statistics are remarkable – Wanganui scored eight tries to one in reply, being unable to land a single goal kick.
The 30-point winning margin eclipses their previous Heartland record of 17 points against the southern team, while it was just Wanganui's third win in nine games played at a home track that was previously a fortress for North Otago.
Wanganui already had their bonus point before halftime after scoring five tries to lead 25-3, but most importantly looking forward to the rest of the season, it was the first time they did not let their foot off the throat.
The scoreline progressed to 35-10 in the final quarter and Wanganui had the final say with another try inside the last 10 minutes, leaving the previously unbeaten southerners with no consolation.
Winger Samu Kabunavanua grabbed a double, while his fellow Fijian flyer Michael Nabuliwaqe scored in consecutive games as part of a fine match.
Prop Viki Tofa, centre Poasa Waqanibau and reinstated first-five Areta Lama also secured five pointers.
The bench did what is required to maintain tempo, as reserve lock Sam Madams got a try, as well as schoolboy sensation Stephen Perofeta in his second game for the senior Wanganui team.
But the praise needs to go to the engine room as coach Jason Caskey pointed to the efforts of blindside flanker Bryn Hudson, lock Fraser Hammond and hooker Cole Baldwin for taking it to the bigger North Otago forwards.
In his first game back in the starting lineup, Hudson got through the full 80 minutes and once again made the southerners' day a nightmare.
It laid a platform for fullback Trinity Spooner-Neera to shine in general play, although Caskey will probably have a quiet word about practising goalkicks before road games as the import was unable to telegraph a conversion from eight attempts in somewhat difficult conditions.
"We done a lot of things we were working on. It could have quite easily been more [points]," said Caskey.
"Their try was a soft try in the end. Outside the 10m we got busted. We fixed that area up."
Halfback Lindsay Horrocks made it a mission for his opposite Cameron Keenan and North Otago's key first-five Ben Palmer to have as an uncomfortable afternoon as possible.
"He was a little dog chasing them around." said Caskey.
Taking the lessons from the potentially morale-sapping injury time loss to Mid Canterbury, Caskey said the team had drilled hard at training to get themselves over the ball and resist the temptation of bringing their hands into play.
It worked because after an over-eager start where they conceded four penalties in the first 10 minutes, the side gave away fewer than a handful for the remainder of the fixture – much improved for the 16 infringements and two sinbinnings of seven days before.
"That was a big plus. If we can nullify that out of a game, it puts us in the game and gives the opposition less opportunities," said Caskey.
"It's a reflection of what we're capable of – fixing things that weren't right last week."
The overeagerness was actually a welcome surprise for delighted captain Peter Rowe.
A veteran of many excursions to the South Island, where it has always been a challenge to handle the added travel factor and the down time waiting, Rowe was concerned with the team vibe on the morning walkthrough at Whitestone Contracting Stadium.
Several players seemed unwell, being quiet or coughing, the skipper said.
"I thought, 'this is going to be one of those days', but they came out of the sheds and into it.
"We were moving forward all day. [North Otago] were big boys, but they were going backwards.
"It was pretty satisfying, all the boys stood up today.
"It's been threatening for a little while – we showed it in patches last week."
The victory with a four-try bonus and healthy points differential sweeps Wanganui up into second on the ladder, behind the unbeaten Mid Canterbury.
They now have a run of Cooks Gardens games against Buller and King Country and could really consolidate their position in the quest to get back into the Meads Cup playoffs for the first time since 2012.
Caskey and Rowe still feel there is plenty to work on before that will be achieved, pointing out there were periods in Oamaru where the side's play was somewhat ordinary.
But if ordinary gets you a 30-point victory in the South Island over an undefeated team, then Wanganui have put the Heartland competition on notice of what they can do when they are fully firing.
By Jared Smith – Wanganui Chronicle
---