Latest Heartland championship statistics are –
Individual points – 65 Brandyn Laursen (H-K), 46 Hagen Schulte (Buller), 45 Ewen Scott (MC), 42 Tim Priest (WB), 41 Zayn Tipping (KC), 40 Ben Palmer (NO), 34 Nik Cumming (WC), 28 Trinity Spooner-Neera (Wang), Murray Williams (MC), Kahu Tamatea (PB), Jonnie Te Ruki (TV), 26 Hugo Torres (WC) 23 Jason Merrett (SC).
Individual tries – 5 Erenimo Tau (SC), Leigh Bristowe (NO), 4 Iliesa Tuvayra (KC), Nemani Talemaitoga (TV), 3 Samu Kubunavanua (Wang), Kris Palmer (EC), Brandyn Laursen (HK), Ashton Tuck (MC), Rupeni Cokunasiga and Paul Fifita (SC), Hugo Torres (WC) and Tyrone Keith (TV).
Team tries – For: 22 Poverty Bay, 21 Wanganui and South Canterbury, 18 Horowhenua-Kapiti, 16 Thames Valley, 15 King Country, 14 Mid Canterbury, 11 West Coast, 10 Wairarapa-Bush, 7 North Otago and East Coast, 4 Buller.
Team tries – Conceded : 7 Wairarapa-Bush, 9 Wanganui, 10 King Country, 11 Mid Canterbury, Buller and West Coast, 12 South Canterbury, 14 North Otago, 17 Horowhenua-Kapiti, 18 Thames Valley and Poverty Bay, 30 East Coast.
Rams deliver reality check for Foxes as they eye up the Butcher Boys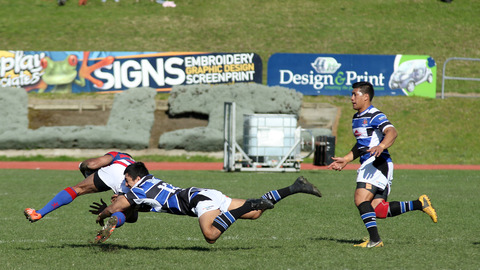 Wanganui number 12 Trinity Spooner-Neera stops a Buller player with a nice low tackle. PICTURE / NEIL JONES
A runaway 47-12 home victory over the Thames Valley Swamp Foxes in Taupo last weekend is a reminder to Steelform Wanganui that the King Country Rams are not to be taken lightly in Saturday's Pink Batts fifth round Heartland rugby match at Cooks Gardens.
The Butcher Boys may have a good Heartland record against King Country since the championship started in 2006 – six wins, a draw and two losses – but the Rams cannot be taken for granted.
They may be eighth on the points table so far this season with home wins over Horowhenua-Kapiti (34-28) and Thames Valley and away losses against last year's Meads Cup finalists – Mid Canterbury (17-25) and Buller (20-32) – but like Wanganui the Rams have been playing against potentially strong opposition apart from the Swamp Foxes.
They have scored 15 tries compared with Wanganui's 21 (equal second best with South Canterbury) and conceded 10, just one more than the Butcher Boys. In addition halfback Zayn Tipping, with 41 pts, is a useful goal-kicker.
Most experienced forwards are former NZ Heartland lock and team skipper Aarin Dunster (87 caps), loose forwards Sam Mason (57), prop Brian Mansfield (54), loosie Rob Sherson (31) and hooker Sam Holder (33) with 1.93m Dunster and 1.92m Sherson the tallest.
Heaviest player is prop Steve Te Moana at 130kg, 14kg heavier than Wanganui's top weight, prop Kamipeli Latu.
Backs with most provincial games are elusive winger Dean Church (44) and centre James Henara (35).
Wanganui has impressed as the most enterprising of the 12 Heartland teams with an attacking ability that has worried all four opposing teams so far this season. The blues are able to launch attacks from anywhere on the field through fired-up loose forward charges and rampant raids from the mid field and outside backs.
The flair of the pacy Fijians have impressed the crowds at Cooks Gardens. There has been quite a tendency to use lengthy passes on occasions, which worry and confuse opposing defences because they cut out quite a few players. But there is always the concern of intercepts if this policy is utilised too often.
Wanganui, however, has come through a demanding early schedule well and with 16 pts is only 1 pt adrift of Mid Canterbury, a team chasing a record three in a row Meads Cup titles.
The 25-9 victory over last year's runners-up Buller last Saturday, although the final winning margin was a little flattering, impressed one very experienced Buller supporter, who had a player in the game, saying that Wanganui is showing all the signs of reclaiming the Meads Cup is played in Ashburton.
But that possibility is six weeks away and in the meantime Wanganui must continue to play winning rugby and claim the scalps of eighth-placed King Country, seventh-ranked Thames Valley (away), ninth-positioned Poverty Bay (home) and sixth-ranked Wairarapa-Bush (away) to claim a semi-final at Cooks Gardens before any thoughts of a final.
Unbeaten Mid Canterbury has still to play bottom of the table East Coast (home), Poverty Bay (away), fourth-placed Horowhenua-Kapiti (home) and fifth-slotted North Otago (away).
Third-placed South Canterbury, just a point adrift of Wanganui, meets Thames Valley (home), King Country (away), North Otago (home) and Poverty Bay (away).
Wanganui will be seeking a third successive RDO Cup Development grade title with a match against the only other unbeaten team, Wairarapa Bush, at 12.30pm at Cooks Gardens on Saturday.
The finals of the annual Country School's Primary Sevens will be played at 1.55 – Raetihi v Westmere in the 5-6 age group and Hunterville against Waverley in the 7-8 age group.
Former NZ Heartland rep and champion Wanganui skipper Steelie Koro proved he still has plenty of skills when he took the field as a replacement against Buller last Saturday and set up his side's bonus point fourth try with a superbly-placed kick over the heads of the opposition.
The recall of the 2007-10-11 national Heartland rep and 2011 successful Wanganui Meads Cup captain is a major talking point in the local rugby community.
The now 30-year-old five eighths, then playing for Tech OB, made his first-class debut in 2003 as a replacement in a heavy 78-22 defeat at the hands of Hawke's Bay on McLean Park. He had eight appearances that season, five of them off the reserves bench including in the 28-16 victory over King Country in the NPC Div 3 final at Te Kuiti.
Koro next played for Wanganui in 2005, this time from the Marist club, and had just one game – as a replacement in a 6-27 NPC Div 2 loss to Counties Manukau at Cooks Gardens.
He became a regular rep when the Heartland championship started in 2006, playing in all nine games, two in the No 10 jersey and the rest at second five including in the shock 14-16 Meads Cup final defeat against visiting Wairarapa-Bush.
Koro scored 100 (2 tries, 14 penalty goals and 24 conversions) of Wanganui's 353 points in 2006 with Kaierau centre-winger Pati Fetuai scoring 14 tries, still a Heartland record in a season.
Wanganui was again Meads Cup runners up in 2007, losing 25-8 away to North Otago in the final, with Koro playing seven of 10 games and scoring 33 pts. He did not play in the final, nor in the 21-19 qualifying loss to Mid Canterbury in Ashburton.
After missing the 2008 season Koro played in the champion 2009 team with his seven games including at second five when the Butcher Boys beat Mid Canterbury 34-13 in the Meads Cup final at Rugby Park, in Christchurch. He also played at second five against Wellington who defended the Ranfurly Shield 61-6 on Cooks Gardens – the only Shield game ever played in Wanganui.
Koro missed the start of the 2010 season but played at second five in the last eight Heartland matches including the 39-18 loss to North Otago in the Meads Cup final at Oamaru.
There was a second Heartland championship for Koro, this time as skipper, when Wanganui beat East Coast 30-10 in the 2011 Meads Cup final on Cooks Gardens. He played in all 10 games
Koro was in 36 winning Wanganui teams from his 41 Heartland fixtures between 2006 and 2011.
This year he returned to his old club Tech as player-coach in the Wanganui senior competition, impressed with his astute play for the Wanganui B team, and has deservedly won his way back into the Heartland squad. His game on Saturday was his 51st for Wanganui.
Steelie Koro was the leading points scorer, for Marist, in the 2006 (95 pts) and 2007 (140 pts) Wanganui premier club competitions, winning championship titles in 2007 and 2010.
Wanganui will be aiming to maintain a sizeable Heartland success rate against King Country on Saturday.
Until King Country pipped Wanganui by a single point here in 2013 (17-16) and at Te Kuiti (30-29) last year the Butcher Boys had been unbeaten in Heartland matches against the Rams.
Wanganui atoned for the slender qualifying round loss last season, returning to Te Kuiti seven days later to romp home 37-6 in a Lochore Cup semi-final – a record winning margin in 12 games between the two unions played in Te Kuiti.
It was deflating for the Rams who had emerged as the top qualifying side whereas Wanganui only scraped into the play-offs after a count-back ahead of Thames Valley. Two consolation points in the 29-30 loss a week earlier was the deciding factor.
The two unions had only previously met in a play-off once previously – Wanganui beat King Country 28-16, also at Te Kuiti, in the 2003 NPC Div 3 final. As was the case last season, the Rams had won (23-20) during the qualifying rounds.
There are only two victories difference between the unions in the 62 fixtures played since 1933. Wanganui has won 31 times and King Country 29 with draws at Raetihi in 1945 (6-all) and 2006 (23-all in Te Kuiti in the inaugural Heartland clash). The average winning score over the years is 17.5 to 16 in Wanganui's favour.
Front rower Brett Turner, who has been recalled to the Wanganui team this season after an absence of eight years, and winger Amini Niukula scored tries in the 2006 draw with Steelie Koro kicking three penalty goals and two conversions. The Rams, who finished with exactly the same scoring methods, had led 20-10 at half-time. E Bligh and M Hunter scored tries (then worth only 3 pts each) in the 1945 draw.
---