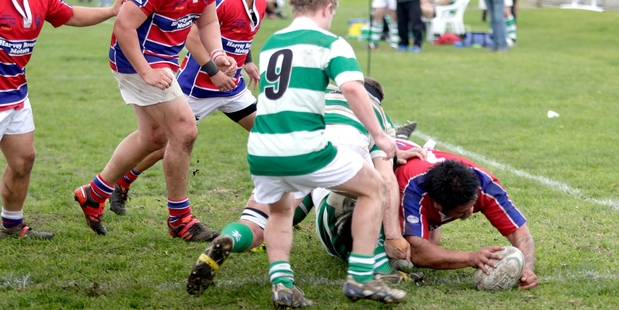 A lot can change in 20 minutes.
That was the time it took for a flawed but energised Dave Hoskin Carriers Marist to snap a six-game Tasman Tanning Premier losing streak and for a flat Harvey Round Motors Ratana to consign themselves to very long odds of reaching the top four after letting a 12-point lead evaporate to an 18-15 loss at Spriggens Park on Saturday.
Having scored tries in the opening moments of both halves to lead 15-3 heading into the final quarter, Ratana ran out of gas against a home side that has been lacking good execution, but not the stamina of youth.
Marist second-five Matt Neilson was ferocious on defence, while try-scoring No8 Ryan Gill and busy fullback Grayson Tihema recovered from some dropped balls to find another gear with powerful runs.
Marist lock Ian Hawkes, who had a running battle with the Ratana pack at the end of the first half, would score what proved the match-winner in the 71st minute, although there was some dispute about the try.
Ratana flanker Mikaere Penetito had been his side's go-to man in the lineout and was chasing a clearing kick when he was warned by referee Noah Viliamu for being well offside.
However, the ball found touch and when an urgent Marist opted for a quick lineout, Penetito made the tackle and was pinged by Viliamu despite it technically being a new phase of play.
Determined Marist prop Tom Nepia swooped in for the quick tap and took his team straight to the line for Hawkes' try.
The game had been very stop-start through Viliamu's whistle but Ratana did themselves no favours by getting marched for backchat, with first-five Te Rokena Matthews sin-binned inside the final minute.
Before that, Ratana turned down a straightforward penalty kick in front in the hope they could replicate their previous three tries to flanker Jason Hughes, captain Vaan Rauhina and lock Marius Joseph, all scored in the corners after signature rolling mauls.
But with Hughes and Rauhina having been subbed for the final quarter, although Rauhina came back through an injury, Ratana's ball handling in the midfield and security at lineout time deserted them.
After nearly two months of disappointment, Marist coach Jason Hamlin was a very relieved man.
"I think that was a win, I've forgotten what it feels like."
Often he has spoken of the team's youthful exuberance leading to basic errors, but on Saturday it proved a virtue as, despite playing poorly for an hour they simply did not give up.
Ratana coach Johno Kaa said his team could expect a lot of tough drills at training this week, as they now have the tough ask of trying to stay in touch with the top four with three straight games against Taihape, Pirates and Border.
Key to this will be trying to develop some cohesion on attack outside of relying on rolling mauls close to the line, as only once this season have Ratana managed a four-try bonus point.
It seemed like that bonus point was on the cards as Ratana got a penalty straight from the kickoff and went to a 10m lineout, with Joseph being driven to the line by his team before the ball was freed to Hughes to dive over in the corner.
Ratana could not buy a goalkick through fullback Western Hemi or halfback Kane Tamou throughout the game, while Marist's Sean Brown was away with his early long range efforts before getting a penalty in front just before halftime, then handing the duties to reserve Tyson Manaena.
Before that, Ratana got their second try in virtual identical circumstances – driving off the lineout before feeding Rauhina, who powered through two tacklers at the corner flag.
When Joseph was driven across the chalk by his team for 15-3 after five minutes of the second half, it seemed Ratana were destined to claim fourth spot with Taihape on their bye week.
However, the men from the Pa were running out of legs and Marist finally began to string some decent phases together.
Marist 18 (Ryan Gill, Ian Hawkes tries, Tyson Manaena pen, con, Sean Brown pen) bt Ratana 15 (Jamie Hughes, Vaan Rauhina, Marius Joseph tries). HT: 10-3 Ratana.
By Jared Smith – WANGANUI CHRONICLE