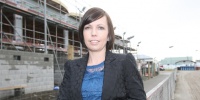 WANGANUI RUGBY HAS FIRST WOMAN BOSS
The Wanganui Rugby Union has broken new ground by electing its first female chief executive.
Bridget Belsham, soon former manager of the Wanganui Greyhounds and wife of local horse trainer Paul Belsham, takes over from Dale Cobb, who resigned last October.
"I'm excited by the challenges in what some perceive as a man's industry. But I'm definitely a rugby fan and follow Wanganui rugby," Bridget said today
"There are a lot of opportunities for Wanganui rugby but I just want to get into the job and take it from there. I'm excited to have the backing of the board."
Bridget Belsham will switch from greyhound racing administration to rugby when she becomes the first woman in the 128-year history of the Wanganui Rugby Football Union to be named as the union's chief executive officer.
The 38-year-old will also become the youngest WRFU CEO when she takes over the role on March 2nd.
She had three years with a local law firm before joining the staff of Westpac Bank. During her 12 years with the bank Bridget was elevated to local business manager before taking the role of Wanganui Greyhound Club manager, based at the Hatrick Raceway (Spriggens Park). She was project manager for the new $1.5m grandstand facility at the Park.
In her younger years Bridget, who takes a keen interest in all forms of sport, played touch rugby, squash and hockey, being secretary of the TCOB Squash Club for three years.
Bridget had a financial management position as a Kaitoke School Board of Trustees member between 2007 and 2013 and was treasurer of the Marie McFarland Kindergarten in 2005-2007.
Her appointment as CEO yesterday, from a field of 16 candidates from the USA, Qatar, Australia and New Zealand, including three women applicants, continues a trend of new faces in Wanganui Rugby circles with Norm Crowe the new president, Jeff Phillips new chairman and Paul Kenny is into his first full season as Club Rugby. Still to be appointed is a new Rugby Development Officer.
Gone from last season are retiring president Brian Green (now a Board member), chairman Dave Hoskin (after 14 years), CEO Dale Cobb (after six years), Club Development Officer and acting CEO since November J B Phillips (after 13 years) and RDO Jordan Farrington (after four years).
Wanganui has had several part time women financial administrators in recent years but Bridget Belsham will become the first WRFU full time woman office employee since Joy Waldron who was rugby office manager in 2003 under CEO Graeme Taylor.
Bridget met her future husband, racehorse trainer Paul Belsham, in Wellington and moved to Wanganui in 1997. They have two daughters, Kate, aged 14, and Alana, aged 10.
http://www.wanganuionline.com/
---