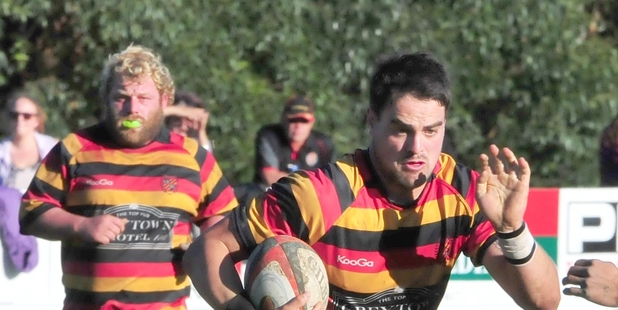 Wairarapa-Bush seem certain to be without in-form hooker Richard Puddy for their crucial Heartland championship rugby match with Poverty Bay at Memorial Park, Masterton, on Saturday.
Puddy, whose assertive attitude on attack and defence has made him one of the few success stories of this Heartland campaign, left the field during the 43-16 loss to South Canterbury in Timaru last weekend with suspected concussion. He was replaced by Adam Johnson who will almost certainly become part of the starting line-up for this weekend.
Head coach Mark Rutene and his assistant, Paddy Gough, won't confirm their run-on team until after training tonight but Johnson's replacement of Puddy is unlikely to be the only change for a game which has become critical for Wairarapa-Bush simply because they desperately need a victory if they are to have prospect of making it through to the Meads Cup semis, something they have managed for the past two seasons.
For that to happen, they have to make it into the top four at the end of the preliminary round and even a quick look at the present standings indicates how difficult a task that has become.
Their two points put them ahead of only East Coast and West Coast, both of whom have yet to open their account, and trailing South Canterbury (15pts), Buller (14), Poverty Bay (11), Horowhenua-Kapiti (11), Thames Valley (10), Mid-Canterbury (8), King Country (6), North Otago (6) and Wanganui (2).
Undoubtedly the biggest poser for Rutene and Gough leading into the Poverty Bay game revolves around who to play where in the backline. In terms of versatility, they are spoilt by choice but while it would be unfair to lay the blame for Wairarapa-Bush's disappointing start to their Heartland programme entirely on the rearguard they have clearly failed to live up to expectations.
With victory such a prime requirement, the temptation for Rutene and Gough must surely be to go into Saturday's game with a backline with a starting seven best capable of turning attacking opportunities into points. And if that is the stance they take then Inia Katia could be moved from wing to halfback, Ben Aoina from fullback to first-five and Sam Monaghan from first-five to fullback.
Then there is the question of the midfield and wings. Perhaps Robbie Anderson, who was solid against South Canterbury, could be shifted in a place from centre to second-five and talented Greytown youngster Teihana Brown tried at centre. He has now fully recovered from his injury hassles and it could be timely to "blood" him at this level.
There are at least four contenders in the present squad for the wing berths with Paul Tikomainavalu and Nick Olson maybe the pick of them but for sheer attacking brilliance how about a look at Malatai Malatai, who was such a revelation for Marist on the club scene.
His ability to create tries out of nothing could be very handy.
The reasons for change in the forwards are not so compelling.
Yes, they had issues with their retention of possession, especially in contact situations, against South Canterbury with something like 25 turnovers being registered and they still need to learn that conceding penalties in kickable positions is not a good idea at this level but, overall, they have been performing well enough.
Skipper Kurt Simmonds and Finnbarr-Kerr Newell seem sure to retain their places at prop and while Joe Beech made a favourable impression when he came off the reserve bench, Andrew McLean and Sam Marshall-Wilson should again form the middle row.
It would be a surprise if any changes were made to the loose trio of Johnie McFadzean, Isaac O'Connor and Tom Fleming.
By Gary Caffell – WAIRARAPA TIMES-AGE