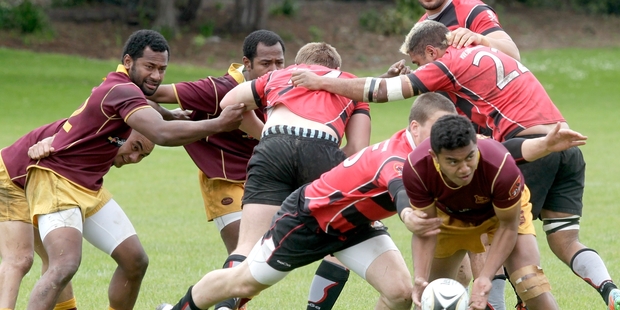 WHEN you take seven rugby players and give them 100m of open field to cover, it's crucial you have the right balance between young bolters and wise heads.
The Kaierau team proved this mantra true as they ran out comfortable winners of the 2014 Wanganui RFU Club Sevens at a wet and windy Marton Park on Saturday, disposing of Taihape 31-0 in the final.
Going through their pool matches comfortably with only eventual fourth-placed Pirates proving a tough challenge 22-12, Kaierau had the experience from the likes of Ace Malo and Stu Brosnahan, with the clever foresight from players like Osea Rokubu and talented teenager Vilimoni Koroi, taking a break from Feilding High School to come back and play in a Wanganui competition.
Taihape, who were also undefeated but got to the final with a last minute try seeing off Ratana 17-14, called on their fixtures from the Premier club team like Tremaine Gilbert and Jaye Flaws, plus three of the Whale brothers as Ben had come home to join Luke and Dane.
Flaws had an early chance before his long break was run down, but with his newly shaved head, Malo caught Taihape napping with a chip ahead into open pastures, keeping the ball on the toe for the opening try.
Luke Whale had a chance to reply, passing back and forth with James Barrett when Kaierau spilled the ball at their tryline, but the defence pushed him out at the corner flag.
Clearing their line, Kaierau counterattacked as Rokubu tapped and split the defence, feeding Koroi who was taken late after grubber kicking, but Brosnahan was the only other player in cooee and forced the ball for 12-0 on halftime.
Taihape struggled with their handling as promising probes by Gilbert, Flaws and Luke Whale were undone, as Kaierau again counterattacked with Brosnahan getting free on the outside and running 80m to score his second try.
Keeping the pressure on, Rokubu went for a dart and fed Malo, who wrong-footed his man and dashed away for his own double, then near fulltime Koroi took advantage of a lineout steal to jink around the defence and force his way through two tacklers to wrap it up.
Kaierau's player-coach Johnny Muir was pleased with how his squad had adapted throughout the day.
"We had a couple of trainings. Sevens is a tough sport, you need at least a couple of months to get ready.
"You got the young fellas out there who live for the moment … and get the win."
In the playoff for third and fourth, Utiku Old Boys had a 15-7 win over Pirates, scoring two late second-half tries, the decisive score coming from a kick and chase, after a tryless first half.
New Wanganui representative sevens coach Tom Wells, who had guided Taihape, then announced a 24-man wider training squad after the tournament.
"The weather was a bit of a leveller, you can't see the quality that high. But there's some young guys and a good standard," he said.
The wider training group will be worked down to 14 players over the next two weeks, including playing in an invitational tournament in Matamata against Hamilton and Auckland sides on November 29.
From this, a final squad of 12 will contest the Hurricanes Regional Sevens tournament in Palmerston North on December 6, hoping to qualify for the national sevens in Queenstown this January.
Wells said his goal was very much to win that qualification straight off the bat with this new squad.
They will train at Marton this Tuesday and Thursday, 6.30pm.
Results
Pool A: Taihape bt Utiku OB 26-12; Marist bt Ratana 14-12; Utiku OB bt Ratana 19-5; Taihape bt Marist 24-14; Utiku OB bt Marist 27-14; Taihape bt Ratana 17-14.
Pool B: Pirates bt Ruapehu 31-0; Kaierau bt Marton 19-0; Marton bt Ruapehu 21-10; Kaierau bt Pirates 22-12; Kaierau bt Ruapehu 41-0; Pirates bt Marton 26-10.
Finals: Ratana bt Ruapehu 29-10 (7th-8th); Marist bt Marton 20-14 (5th-6th); Utiku OB bt Pirates 15-7 (3rd-4th); Kaierau bt Taihape 31-0 (1st-2nd).
Wanganui wider training group:
Tremaine Gilbert, Cyrus Paringatai, Ben Whale, Dane Whale, Jaye Flaws (Taihape); Kieran Hussey (Border); Grayson Tihema, Simon Dibben, Kent Rivers (Marist); Mudsen Ah Chong (Marton); Moli Sagapolutele (Ratana); Areta Lama, Aselemo Malo, Taylor Kirkwood, Jona Nareki (Kaierau); Chris Hansen, Brett Illston, Semi Radradra, Malakai Volau, Michael Nabuliwaqa (Utiku OB); Manu Lafi, Clive Stowers, Bobo Ulukuta, Kameli Kuruyabaki (Pirates).
By Jared Smith – Wanganui Chronicle