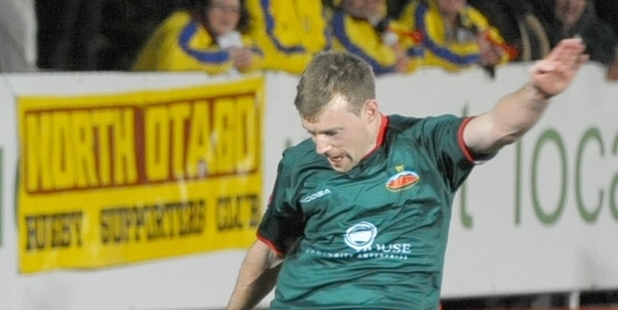 A CONVERTED try right on fulltime gave Wairarapa-Bush an exciting 14-13 win over last year's Meads Cup beaten finalists Buller in their Heartland championship rugby match at Westport on Saturday.
The result hinged on Tim Priest's conversion attempt from near the sideline of Nick Olson's last-minute try and Priest immediately became the hero of teammates and the small band of Wairarapa-Bush supporters when the ball sailed between the posts, straight after which the final whistle was sounded.
It was a crucial kick in more ways than one. Not only did it give Wairarapa-Bush a victory but it kept them well in touch with the leaders on the competition table. After the first three preliminary round games they are third equal with 10 points, alongside both South Canterbury and Thames Valley. Ahead of them are Mid-Canterbury (13pts) and Wanganui (11pts) and behind them North Otago (8pts), Poverty Bay (7pts), Buller and West Coast (5pts), King Country (4pts), Horowhenua-Kapiti (3pts) and East Coast (0pts).
Saturday's win again typified the resolve in the current Wairarapa-Bush line-up. They had a strong wind in their faces in the first half and, despite having a major territorial advantage, all Buller had to show for their efforts going into the last minutes of that spell were two penalties by Hagen Sculte. However, a late try by Setefano Sauqaqa, converted by Schulte, made it 13-0 at the break and with the wind becoming more of a breeze the home team were clearly in the driver's seat.
"We were pretty happy at 6-0 but, yes, 13-0 was a bit different," Wairarapa-Bush coach Josh Syms agreed afterwards.
"We still thought we could pull it back but it did make it harder for us."
As it happened, all the scoring action in the second half came from Wairarapa-Bush. Replacement front rower Kody Thompson scored a try from a pick and drive that Priest converted to reduce the Buller lead to 13-7 and in that very last play Olson pounced on a cross kick from Viliame Hala to give Priest the chance to seal the win with his conversion.
The kick was anything but a sitter but Priest judged the breeze to perfection and the extra two points snatched victory.
Coach Syms said the main aim for Wairarapa-Bush in the second 40 minutes was to play a territory-based game, and some judicious kicking from Priest and wing Tipene Haira had been a huge help in that respect with one booming punt from Haira carving off around 80m.
Also helping the cause were the handful of steals made at lineout time by James Goodger, the powerful running in broken play of Andrew Makalio, and the stoutness of a defence spearheaded by the likes of Rima Marurai, Andy Humberstone, Vala and Olson.
"Our defence right through the game was outstanding; there were no shirkers in that area," Syms said.
"They [Buller] did their damnedest to break us but they only got the one try and that spoke volumes for the courage our guys showed."
Adding to the value of the overall Wairarapa-Bush performance was that injuries led to two of their key forwards, prop Kurt Simmonds and openside flanker Chris Raymond, having to leave the field in the first 20 minutes, Simmonds with a sore knee and Raymond with an elbow problem. The loss of Simmonds meant that,with Jacko Hull being a late withdrawal with a health issue, Makalio had to move from hooker to prop and Thompson came on at hooker. Marurai replaced Raymond.
They also had 14 players on the field for 15 minutes or so when prop Matt Kawana was sin-binned after a fracas early in the second half.
Whether Simmonds, Raymond and Hull will be available for Wairarapa-Bush's next assignment against South Canterbury at Memorial Park, Masterton this Saturday won't be known until later in the week. All are on the doubtful list.
-Heartland third round results:
Wairarapa-Bush 14, Buller 13
Thames Valley 50, East Coast 13
South Canterbury 40, West Coast 24
Horowhenua-Kapiti 54, Poverty Bay 26
Mid-Canterbury 25, King Country 17
Wanganui 40, North Otago 10
By Gary Caffell – Wairarapa Times-Age
---