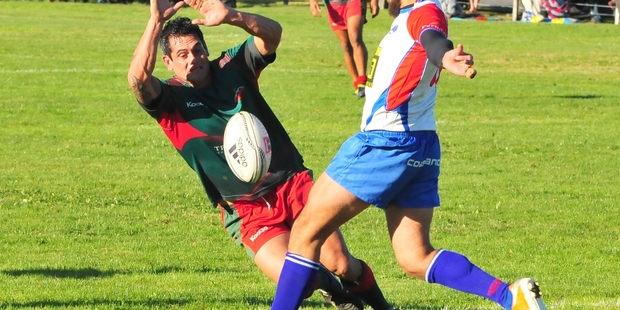 Two newcomers stole the limelight when Wairarapa-Bush thrashed Horowhenua-Kapiti 55-14 in a representative rugby match at Featherston on Saturday.
Eketahuna first-five Sam Monaghan and Pioneer flanker Rima Marutai were the star acts as the home side ran in nine tries in a display which, even allowing for the frailness of the opposition's defensive structure, augurs well for their chances in the 2014 Heartland Championship.
Monaghan , the former Canterbury rep, gave a compelling performance in the No10 jersey during a first half which ended with Wairarapa-Bush leading by a whopping 36-0. Not only did he do all the basic things like passing, kicking and option taking well, he also displayed the eye for a gap and rapid acceleration that left would-be tacklers grasping at thin air.
His own personal try count in that period of play was three and Monaghan didn't take long to add a fourth in the second spell when he was given the chance to showcase his talents at fullback.
His attacking opportunities at that position were limited but there was a lot to admire about his hefty punting and astute positional play.
Marutai did what every class open side flanker does. He was quick to the breakdown, a strong, purposeful runner in broken play, a constant harasser of the opposition's inside backs and an aggressive defender in close quarter situations. He also showed another string to his bow, making at least four or five clean lineout takes when used as an option in that department in the second half.
Monaghan and Marutai were, however, by no means the only new faces to shine. Midfielder Robbie Anderson was impressively direct in his attacking play and equally assertive on the tackle, locks Kieran O'Brien and Gareth van Dalen applied themselves diligently in the tighter exchanges and hooker Adam Johnson made every post a winner when he joined the action in the second half.
It was pleasing too to see prop Kurt Simmonds return to the representative fray after missing all of last season through injury. Not only did he show his usual strength in the scrums and mauls he also pulled off some crushing tackles through the course of the game. Blindside flanker Johnnie McFadzean was typically industrious while seasoned campaigners, halfback Zeb Aporo, and wing Paul Tikomainavalu, also caught the eye. Aporo provided a smooth and snappy service to his outsides and Tikomainavalu was all power and pace whenever he had the chance to stretch his legs.
Monaghan (4), Tikomainavala (2), O'Brien, Aporo and Michael Te Whare were the try scorers for Wairarapa-Bush and conversions were landed by Anderson (2), Nick Olson (2) and Tipene Haira.
By Gary Caffell – WAIRARAPA TIMES-AGE