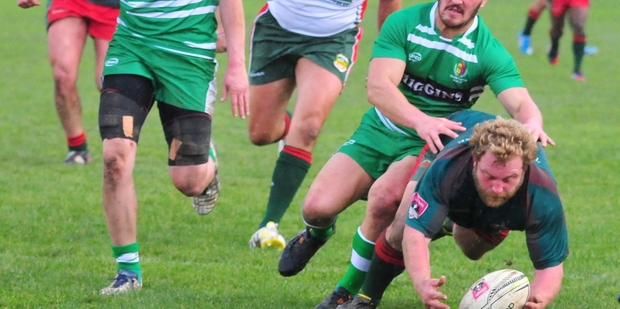 It was two of their debutantes who stole the limelight when Wairarapa-Bush scored a hard-fought 29-23 win over Manawatu development squad in a non-championship rugby match played at Memorial Park, Masterton on Saturday.
The impact made by Upper Hutt first-five Ben Aoina and Old Boys University flanker Andrew McWhirter indicated that Wairarapa-Bush coaches Mark Rutene and Paddy Gough had chosen wisely when "importing" talent from Wellington-based clubs to strengthen their Heartland championship squad.
Aoina stepped into the No10 jersey because of the unavailability of the supposed first-choice pivot, Eketahuna's Sam Monaghan, and made a huge impression with his tactical nous and accurate goal kicking.
He finished the game with a personal tally of 19pts and most of his five penalties were landed from distances ranging between 40-45 metres.
A veteran of almost 170 matches in the Upper Hutt colours Aoina will surely claim a permanent berth in the Heartland line-up, the only question being in what position.
McWhirter, who has played for New Zealand Universities, Hurricanes development squad and Wellington B, was on the blindside flank and was often at the centre of the action on both attack and defence through his ability to be at the right place at the right time.
He was a strong runner with ball in hand and pulled off numerous crunching tackles in close-quarter play.
There was nothing wrong either with the performances of two of the other "imports" in lock Joe Beech and prop Finnbarr Kerr-Newell.
Beech competed well in the lineouts and was mobile about the paddock while Kerr-Newell, who started on the bench, was typically industrious in the tighter exchanges, and one of his side's most dangerous runners in broken play.
He was a star of last year's Heartland side and looks certain to be playing a dominant role again.
Of the local talent on display captain Kurt Simmonds was one of the better players up front, showing surprising dash in staving off the Manawatu cover defence to score a try after first speculating the loose ball ahead about 20m out from the goalline.
Lock Andrew McLean was the main "go to" man in the lineouts and a hard grafter in all other areas of the forward game, loosies Johnie McFadzean and Tom Fleming were into everything and prop Jacko Hull appealed as a youngster of considerable promise.
In the backs Wairarapa-Bush were literally well served by both of their halfbacks, first Inia Katia and then Joseph Sio, Paul Tikomainavalu was seldom halted by the first tackle when he came off the bench to play in midfield and both Robbie Anderson and Michael Te Whare hardly put a foot wrong.
The Manawatu development squad were every bit as competitive as you would expect from a team the premier side of which contests the ITM Cup, with standouts being well-balanced first-five Clayton Stewart and the aggressive flanker Rhys Pederson.
Simmonds and Hull scored the Wairarapa-Bush tries with Aoina landing five penalties and two conversions.
Wairarapa-Bush will play Poverty Bay in the annual Jeremy David Memorial Trophy match at Memorial Park next Saturday and will begin their 2014 Heartland campaign with a match against King Country at Taupo on August 23.
By Gary Caffell – WAIRARAPA TIMES-AGE
---