When winners turn out to be losers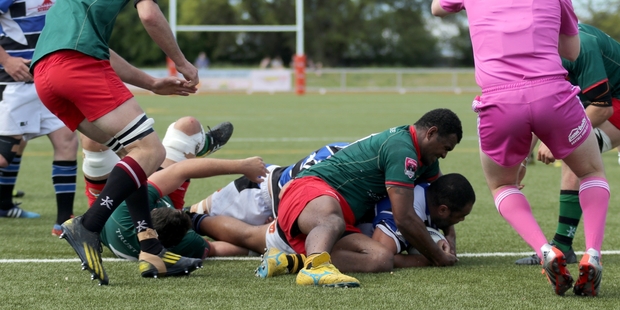 THE MOST amazing outcome from Steelform Wanganui's 57-35 win over Wairarapa-Bush on Saturday is how victory did not help them to home advantage in the Meads Cup playoffs, but glorious defeat earned their hosts an equal away game opportunity.
On a weekend in which nine teams were still in contention for either or both the Meads and Lochore Cup semifinals, the fates of Wanganui and Wairarapa-Bush were sealed by other thrilling matches in Oamaru and Levin.
Down south Mid Canterbury were trying to hang on to second place and a home Meads Cup semifinal, while facing a North Otago team desperate to steal fourth spot off both Horowhenua Kapiti and Wairarapa-Bush.
In the end the home team came up agonisingly short, losing 39-36 as both teams scored five tries, with a second Andrew Letham penalty for Mid Canterbury being the deciding factor, meaning North Otago fell all the way to eighth on the table.
Meanwhile, Horowhenua Kapiti had everything to play for against Buller in Levin but, in a shock, they were upended 44-31, despite a second-half comeback in yet another tryscoring shootout.
Setefano Sauqaqa grabbed three tries for the visitors, while Luke Harvey got a double for the hosts.
This means Wairarapa Bush's bonus point left them tied with Horowhenua-Kapiti, so they locked down fourth spot by virtue of winning the September 26 clash between the two teams.
They will now go down to Timaru for the 1st vs 4th Meads Cup semifinal with South Canterbury, who had no trouble retaining their spot on the ladder with a 62-19 mauling of a hapless Poverty Bay in Gisborne.
Erenimo Tau scored four tries for the Cantabrians, while Junior Kolisio and Paula Fifita got doubles.
So, despite maximum points from their final three games, Wanganui were still short of Mid Canterbury and barely missed a Cooks Garden's semifinal – heading instead to Ashburton for the 2nd vs 3rd clash.
There was further heartbreak down the table as Thames Valley ended West Coast's hopes of a Lochore Cup spot with a 29-17 victory, coming from behind at halftime.
The final placings were decided by King Country's Saturday night game in Taupo against also-rans East Coast, and they secured their Lochore Cup spot with a 60-14 massacre after leading by 31 points at halftime.
Horowhenua-Kapiti and Buller thus get the home Lochore Cup games.
Scores:
Poverty Bay 19 (Tamanui Hill, Kerehama Barrett, Carl Riini tries; Ethine Reeves 2 con)
South Canterbury 62 (Junior Kolisio 2, Paula Fifita 2, Erenimo Tau 4, Jared Trevathan, Theo Davidson tries; Trevathan 4 con, Jason Merrett 2 con)
HT: 14-31
Thames Valley 29 (Hayden Anderson, Josh Elgoran, Shayne Johnson, Tyrone Keith tries; Jonnie TeRuki con; David Harrison 2 con, pen)
West Coast 17 (Jason Wright, Nik Cumming, Isei Lewaqui tries; Cumming con)
HT: 12-17
Horowhenua Kapiti 31 (Luke Harvey 2, Scott Cameron, Perry Hayman tries; Brandyn Laursen 4 con, pen )
Buller 44 (Taione Ratu, Setefano Sauqaqa 3, Revudra, McIlroy tries; Andrew Stephens 3 con, 2 pen)
HT: 3-20
North Otago 36 (Lemi Masoe, Sam Sturgess, Sali Halaeva, Aleki Morris, Cameron Keenan tries; Ben Palmer 4 con, pen)
Mid Canterbury 39 (Matt Thatcher, 2, Tama Tuirirangi, Seta Koroitamana, Ashton Tuck tries; Andrew Letham 4 con, 2 pen)
HT:
Wairarapa Bush 35 (Andrew Makalio, Cody Whittaker, Andy Humberstone 2, Cameron Hayton tries; Tim Priest 5 con)
Wanganui 57 (Michael Nabuliqaqe, Bryn Hudson, Ace Malo, Kamipeli Latu, Samu Kubunavanua, Sam Madams, Steven Perofeta, Trinity Spooner-Neera tries; Spooner-Neera 7 con, pen)
HT: 00- 47 Wanganui
King Country 60
(Iliesa Tavuyara, Anthony Wise 2, Rob Sherson, Steve Te Moananui, James Hemara, Dean Church, Joe Perawiti tries; Zayne Tipping 7 con, 2 pen)
East Coast 14
(Scorers not provided)
HT: 38-07 King Country