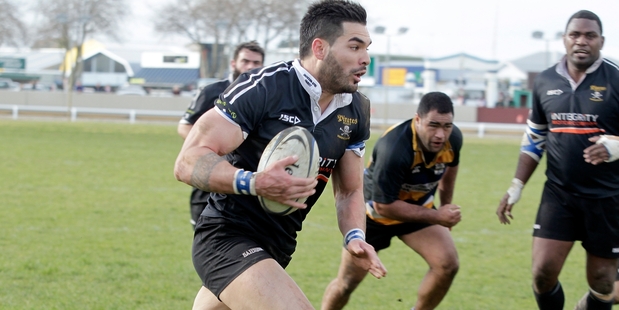 Wanganui Team for Timaru
HEARTLAND CHAMPIONSHIP MATCHES
Head-to-head matches: SOUTH CANT – WANGANUI
07.09.13

Wanganui

South Cant

24 : 23

13.08.11
South Cant

Wanganui

18 : 28

28.08.10

Wanganui

South Cant

13 : 06

03.10.09

Wanganui

South Cant

59 : 14
Versatile Ruapehu forward Andrew Evans will play his 50th game for Wanganui against South Canterbury in Timaru tomorrow (Saturday).
The 31-year-old, who made his debut for Steelform Wanganui against Poverty Bay in 2003, has been named as blindside flanker for the opening round 2014 Pink Batts Heartland qualifying game against the Lochore Cup champions.
Evans, who played eight games for King Country as a loan player in 2009, was a member of the 2011 Wanganui Meads Cup champion side and in the 2010 and 2012 runners-up teams.
He is one of four Ruapehu players in the starting team tomorrow, the others being burly 128 kg prop Shaun McDonough, lock Sonny Woodmass and flanker Peter Rowe who will captain the side in his 90th game for the union.
There are four new Wanganui Heartland caps in the side – Border prop Kamipeli Latu, Taranaki loan first five Josh Hamilton and wingers Jaye Flaws (Taihape) and Clive Stowers (Pirates).
Wanganui's three loan players – Hamilton (ex-Horowhenua-Kapiti and a NZ Heartland rep in 2010 who was the top points scorer in Taranaki club play this year), Auckland second five Rhema Sagote (who played for Wanganui in 2012); and Manawatu centre Tevita Taufu'i (a Wanganui rep in 2011) – are in the starting team.
The reserves include Rupehu halfback William Short and Taihape fullback Dane Whale, who have yet to represent Wanganui, and former NZ Heartland rep 112 kg Lasa Ulukuta who is being tried as a prop this year.
The Wanganui team vs South Canterbury is –
Ace Malo (Kaierau); Clive Stowers (Pirates), Tevita Taufu'i (Manawatu), Rhema Sagote (Auckland), Jaye Flaws (Taihape); Josh Hamilton (Taranaki); Lindsay Horrocks (Border); Andrew Evans (Ruapehu); Peter Rowe (Ruapehu – capt), Faalafi Vave (Pirates), Sam Madams (Border), Sonny Woodmass (Ruapehu), Shaun McDonough (Ruapehu), Cole Baldwin (Border), Kamipeli Latu (Border).
Reserves – Roman Tutauha (Ruapehu), Viki Tofa (Marist) , Lasa Ulukuta (Pirates), John Laurie (Border). Backs: William Short (Ruapehu), Dane Whale (Taihape), Zyon Hekenui (Ruapehu).
Kickoff is at 2.30pm.