4th October 2014
WANGANUI vs WAIRARAPA BUSH
@ Wanganui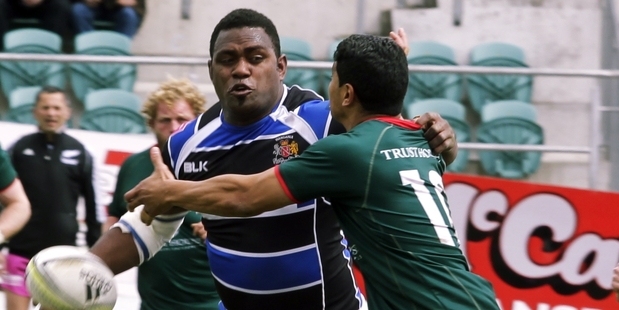 As the Wanganui supporters and busloads of Wairarapa Bush fans left a windy Cooks Gardens on Saturday there was one thing they could agree on – there had been something for everyone in the previous 80 minutes of Pink Batts Heartland Championship rugby.
Ten tries including a hat trick to flying Fijian winger Samu Kubunavanua, a 180 degree momentum shift in the gale, hair-pulling fumbles, baffling refereeing decisions, brawls and a king hit which left Wanganui first-five Dane Whale with a broken jaw and his team scrambling to hold on with a makeshift backline in the second half.
Given the breeze and having dominated the opening stanza with five tries by running excellent inside channels against a visiting team who had no clue about secondary sweeper cover, Wanganui could not get their hands on meaningful possession after they turned into the wind, as Wairarapa Bush stormed back with three tries to narrow the gap to 33-24 with 16 minutes left.
Unable to kick for distance, Wanganui could not play their usual phase-orientated rugby as they were pinged time and again by Auckland referee Daniel Morrison for offside, holding the ball or leaving their feet, to the tune of a 17-6 penalty count.
Tensions brewing in the first half, which saw one pull-apart fight, boiled over minutes after the resumption as Wairarapa Bush flanker Sam Marshall-Wilson cold-cocked Whale while the ball spread to the other sideline and fullback Sam Monaghan dived over to score.
Wanganui captain Peter Rowe said he had been in a running battle with Marshall-Wilson and Whale then interceded.
They were jogging away when the flanker swung at the unsuspecting first-five.
"He just whacked him, broke his jaw," said Rowe.
Enraged Wanganui players ran to sort out Marshall-Wilson in a full tilt fist-fight which left him with his shirt ripped off and his front row team-mate Otto Rasch lying dazed on the ground.
On the advice of tough judge Gordon Ririnui, Morrison binned both Marshall-Wilson and Kubunavanua for punching and disallowed Monaghan's try, but called play back for a Wairarapa Bush penalty scrum.
With Whale's departure, veteran fullback Ace Malo again stretched his versatility into a new position as Wanganui struggled into the wind without their designated playmaker.
Coach Jason Caskey said further action is necessary.
"He'll be cited. It ends Dane's season and it's a shame too.
"We took the gamble, we knew Ace could cover it. The one game we go in without a specialist reserve, and that happens."
Caskey was also unhappy at the raft of penalties against his team, as Wairarapa Bush were led by livewire reserve halfback Inia Katia and pounded Wanganui's line.
"I just can't quite put my finger on it, they are not the bad team to get penalised that much."
Rowe felt the same.
"All we had to do was hang onto the ball. We were our own worst enemy.
"On defence, I don't know if it's a lack of trust, [but] it's turned over.
"We talk about it. But I'm getting penalised [too] and I'm the one talking about it."
Realising they needed to stay out of the breakdown and just keep the ball away from a rampant Wairarapa Bush, Wanganui began throwing daring passes from sideline to sideline and it got them the momentum back.
When the visitors coughed up the ball from a scrum win, reserve loose forward Tremaine Gilbert fed Rowe, who ran hard to the line, before halfback Lindsay Horrocks freed the ball for Kubunavanua to go over for the match winner in the corner.
"They've got all the courage they need to have, [it's just ] a little bit direction," said Caskey.
He praised No8 Lasa Ulukuta, who again made some great first-half offloads, while prop Kamipeli Latu, who had swapped jerseys with Viki Tofa and therefore by accident played the full match, had his best game in Wanganui colours.
"He carried exceptionally well in that second half," said Caskey.
Rowe also praised the commitment of the two young props.
"Talking to them both before the game, I wasn't surprised to see them going so well."
Kabunavanua was the fastest player out there and got on Ulukuta and Whale's shoulder to burn off the chasers.
After Wairarapa Bush gave up first use of the wind which could take a simple chip kick from halfway to the dead ball line, Wanganui grabbed two tries in the opening eight minutes.
Ulukuta forced a spill and fed winger Simon Dibben, who beat his man and scored in the corner.
After that, Wanganui would always score under the posts and make the kicks easy for Whale.
Wairarapa Bush ran up to knock the ball down but hooker Cole Baldwin recovered and fed Ulukuta, who got his pass around the defence to Malo, who threw the dummy and dashed away to score a good try.
After a series of phases, the Wanganui inside backs pulled a switch move and Horrocks put Ulukuta through the gap to score untouched for 19-0 after 22 minutes.
Realising any score into the wind could prove costly, Wanganui spilled the kickoff and then lock Sam Madams got penalised, with Rasch then tough lock Andrew McLean hitting it up.
Hooker Richard Puddy got to the line and after No8 Johnie McFadzean had a crack, Wairarapa spread to winger Cameron Hayton outside of Kubunavanua to score.
Whale and Horrocks would both have kicking issues but Wanganui seemed to seal the matter with two tries right before halftime.
The halves combined and popped it inside to Kubunavanua to waltz away for his first, and two minutes later Whale went on a signature jinking run and this time had Kubunavanua outside him for a double.
But Whale would soon be gone with his broken jaw and while Monaghan's try was called back, Wairarapa Bush stayed on attack.
After a series of rucks and probes by Katia, he was pushed over by his team for 33-12.
Working off penalties, the Bush scored again after several waves at the line, with centre Robbie Anderson diving over from a quick tap.
Monaghan then scored a brilliant try as the ball came loose from a Wanganui drive and was spread to the fullback, who chipped ahead and showed outstanding timing to just force the ball right before the dead ball line.
At 33-24, it seemed Wairarapa Bush were on the verge of a remarkable comeback, but Wanganui found another gear as Kubunavanua scored with seven minutes left.
Wanganui 38 (Samu Kabunavanua 3, Simon Dibben, Ace Malo, Lasa Ulukuta tries; Dane Whale 4 con) Wairarapa Bush 24 (Robbie Anderson, Cameron Hayton, Sam Monaghan, Inia Katia tries; Ben Aoina 2 con). HT: 5-33
By Jared Smith – WANGANUI CHRONICLE
PROVISIONAL TABLE
---