4th October 2014
WANGANUI vs WAIRARAPA BUSH
@ Wanganui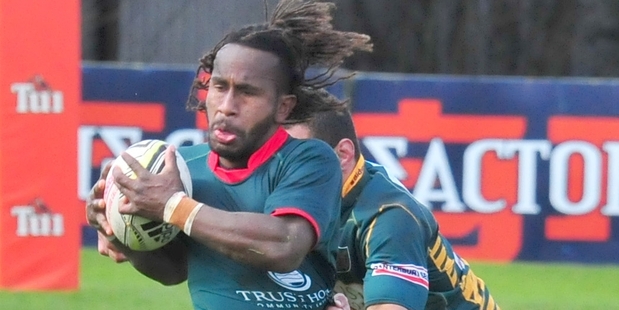 A strong second-half comeback was not enough for Wairarapa-Bush to earn more than a bonus point in their Heartland championship rugby match with Wanganui at Wanganui on Saturday.
Wanganui won 38-24 after having the elements in their favour in the first 40 minutes and taking full advantage, racing out to a commanding 33-5 lead by the interval. Impressive as they were with their attacking play, they were helped by some shoddy Wairarapa-Bush defence, with too many first tackles being missed.
The second spell saw Wairarapa-Bush lift their performance several notches and with the help of the wind they kept Wanganui in their own territory for long periods. They also kept the scoreboard ticking over by scoring four tries and with Wanganui's lead being reduced to 33-24 with much of the last quarter still to be played, it was virtually anybody's game. However, it was Wanganui who dominated possession in those closing stanzas and they had the last say with what was their sixth try of the match.
Wairarapa-Bush head coach Mark Rutene was disappointed at the defensive lapses in the first half but pleased with the manner in which his side had rallied in the second half.
Lock Joe Beech, who started at lock after Sam Marshall-Wilson was switched from there to the loose forwards to cover for the injured Tom Fleming, was one of the best performers up front for Wairarapa-Bush, along with Andrew Mclean, Richard Puddy and Isaac O'Connor.
In the backs, Robbie Anderson justified his promotion to the starting line-up with a solid all-round display, Sam Monaghan made a positive difference when he moved from fullback to first-five in the second spell and Inia Katia was typically lively, first at halfback and then at centre, when he came off the bench.
Samu Kabunavanua (3), Simon Dibben, Ace Molo and Lasa Ulukuta were the try scorers for Wanganui and Dane Whale landed four conversions. Robbie Anderson, Cameron Hayton, Sam Monaghan and Inia Katia scored the Wairarapa-Bush tries and Ben Aoina kicked two conversions.
In other Heartland games played on Saturday, Horowhenua-Kapiti beat South Canterbury 23-11, Mid-Canterbury defeated North Otago 28-7, Poverty Bay beat Thames Valley 17-9, Buller beat West Coast 29-14 and King Country accounted for East Coast 34-7.
PROVISIONAL TABLE
Wairarapa-Bush's final match for the season is against Buller at Memorial Park next Saturday and with Buller already guaranteed a home Meads Cup semifinal – and a home final if they win there – they now have the option of resting key players for the Masterton game.
Wanganui 38 (Samu Kabunavanua 3, Simon Dibben, Ace Malo, Lasa Ulukuta tries; Dane Whale 4 con)
Wairarapa Bush 24 (Robbie Anderson, Cameron Hayton, Sam Monaghan, Inia Katia tries; Ben Aoina 2 con). HT: 5-33
By Gary Caffell – WAIRARAPA TIMES-AGE