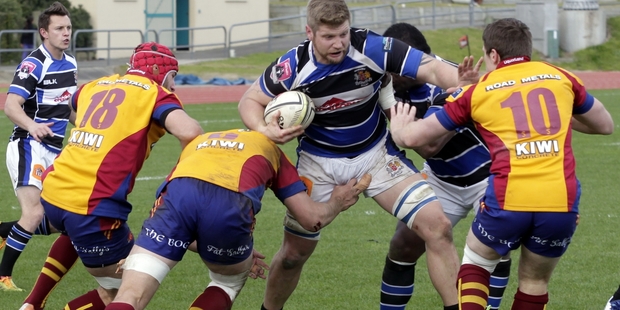 Better, much better. Steelform Wanganui completed a remarkable turnaround in seven days to play with both improved proficiency and vastly more determination to upend favourites North Otago 20-15 at Cooks Gardens on Saturday.
The home team were able to apply pressure for a solid hour before having to dig in as the southern team's big men off the bench nearly stole back the do-or-die Pink Batts Heartland Championship game with two fourth-quarter tries.
All the selection gambles came good, especially new Taranaki origin player Bryn Hudson, as the powerful tryscoring No8 was a revelation in the Wanganui pack with some dynamic bursts and aggressive cleanout – bumping defenders off two at a time.
Lock John Laurie and flanker Peter Rowe were right there with him, Rowe having an inspirational captain's knock, thereby laying a solid platform where a backline guided by new first-five Dane Whale actually put practice onto the pitch by running the angles and linking well.
Whale was outstanding as he showed good vision and evasiveness to catch out North Otago several times with scything runs, while the midfield import pairing of tryscorer Rhema Sagote and Tevita Faufu'i looked much more assured.
Their cause was helped by the visitors ironically having the sort of frustrating match that has blighted Wanganui's recent campaigns by turning in a mistake-riddled effort with unforced fumbles and missed opportunities before "waking up" inside the final quarter. There were some unforgivable errors made in the backline during the first half.
But, possessing the strongest bench in Heartland, North Otago broke out like they did the week before against Poverty Bay, as Ben Palmer and tryscorer Cameron Keenan came on to run the cutter while tryscoring centre Kieran Moffat stepped up as their giant ball runners began to cut through in a series of heart-stopping raids from inside their half.
Saulieoge's brother, winger Tenina Saulieoge, overcame his first-half struggles with Wanganui's pressure chip kicks to out-run his markers and create havoc at the back for the sweeper defenders.
North Otago's forwards pressured Wanganui's tight-five, especially makeshift prop Lasa Ulukuta and then young reserve Viki Tofa, as they turned or pushed them off their own ball several times, forcing the loose forwards to get their weight behind rather than setting up for the pick-and-go.
Relieved coach Jason Caskey said North Otago had the x-factor players who could punch through holes, but the visitors should never have gotten close to them, which they did from the 60th minute onwards.
Basic errors like halfback Lindsay Horrocks and fullback Josh Hamilton kicking out from passes back into the 22m should not have happened and while the combinations will tighten up with game time, plenty more work is needed.
"We left 20-25 points out on the field," Caskey said.
He praised Rowe's effort – at one point inside Wanganui's 30m the veteran cleared out North Otago's tacklers at the breakdown by himself, then despite being hurt got up to scrag giant No8 Solomon T Pole coming off the following scrum.
"You couldn't get a better, no frills, leader, and he never stops working."
For his part, Rowe agreed the tank-like Hudson has been a great addition, "but I think as well, everyone turned up today".
Good captains can sense when their men have had a "mental shift" and after a very honest training week, the 32-year-old was pleased they were "hooked in".
"We had a yarn on Tuesday and we decided to bin what had been, start afresh.
"To come out under that last ten minutes, under the pressure, does wonders."
Whale spotted a half-gap and popped a great pass to Sagote, who linked with hooker Cole Baldwin as Wanganui swept to the line, with Hudson shrugging off four defenders to score after 13 minutes.
Before his rib injury, winger Simon Dibben nearly had the second try if Horrocks' chip kick had just sat up for him, then Fenemor landed a reply North Otago penalty in the 27th minute.
Another Whale dart brought Wanganui back on attack after halftime, and while the ball was lost the loose forwards held North Otago up and from the turnover scrum Sagote just ran hard and reached out to plant the pill.
Hamilton added three points from in front to lead 17-3 after 52 minutes as the home team were looking the goods.
But both Saulieoge's linked for a length-of-the-field breakout and North Otago went hot on attack with Moffat showing skill to drag a wild pass down and score in the corner.
With the breeze behind him, Hamilton immediately replied with a 45m penalty for 20-8 with 14 minutes left, before North Otago poured in for phase after phase as they ran it from their 50m line.
Securing tightheads, a series of bulldozing runs was finished off by Keenan with Palmer raising the flags to set up a pulsating finish.
Tenina Saulieoge sliced through again and all but scored two minutes later, but Wanganui were able to regain North Otago's lost ball or force turnovers as the clock ran down.
Wanganui 20 (Bryn Hudson, Rhema Sagote tries; Josh Hamilton 2 pen, 2 con) bt North Otago 15 (Kieran Moffat, Cameron Keenan tries; Ben Palmer con; Stephen Fenemor pen). HT: 7-3.