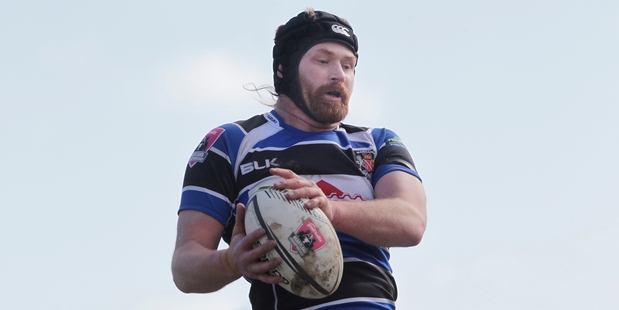 The trip which had made them uneasy became a disaster as all of Steelform Wanganui's plans for their crucial Pink Batts Heartland Championship dissolved under the pouring rain at Greymouth's Rugby Park on Saturday.
Defending desperately for most of the second half as they tried to hang onto a 17-13 lead, Wanganui could not clear their own dangerzone because of dropped ball and the accurate kicking of West Coast first-five Tim Priest.
They finally caved and conceded 10 points inside the final seven minutes to be upended 23-17 and give the home side their first win of the competition.
Having lost all three of their South Island tour games, Wanganui's 2-4 record leaves them in real danger of matching the 2002 team in having the worst season in 28 years of NPC rugby.
It will take a mammoth effort to win their last two games with bonus points and hope other results go their way to scrape into an away Lochore Cup semifinal.
Adding to the woes, it is likely they have lost both their ball runners with Taranaki import Bryn Hudson suffering knee ligament damage which should keep him out for the rest of the campaign, while Lasa Ulukuta pulled his hamstring during the warm-up in Greymouth.
Frustrated coach Jason Caskey said the decision was made to try and get as much from Ulukuta rather than starting with a 21-man squad, but he could only operate at 50 per cent.
The plan to work centre Tevita Taufui into open spaces was undone from the word go because while the Rugby Park turf held up well under foot, the continuous rain made the ball like a bar of soap.
First-five Josh Hamilton missed his first goal kick attempt and the duties were immediately given to returning veteran fullback Ace Malo, who landed three from four.
Hamilton would score a first half try, followed by reserve flanker Andrew Evans after 62 minutes, which came from West Coast spills and a charge down respectively.
But West Coast scored in the first half from winger Regan Stanton and then with the weight of possession from Wanganui spilling it in early phases, the home team stayed on the attacking side of the halfway so when penalties came, Priest could convert or kick for corner lineouts.
"We couldn't get out," said Caskey. The No8 would try to carry the ball, get hit, and be lost. It just made life hard."
Down 13-10, Wanganui struck back through Evans' try, but spilled possessions continued to mount and in the 73rd minute, West Coast second-five Andrew Connors scored for the second year in a row against the Butcher's Boys.
Priest added his third penalty and although Wanganui had a chance to steal the game back in the dying moments with a forward drive from a penalty kick lineout, players got ahead of each other and were pinged for obstruction.
"It was pretty unfortunate, turn up down there looking for five points and it's disastrous conditions," said Caskey.
"Just so many silly mistakes, 6-7 occasions where the forwards went for the pick and go … and ran into players.
"There was a lack of real clear decision making at No10. Somebody's got to take the game by the scruff of the neck and we haven't quite got that. [West Coast's] points came more from pressure and mistakes."
Caskey praised second-five Rhema Sagote for having a standout game, while forwards like lock Sam Madams and hooker Roman Tutauha toiled away.
Changes in the pack are likely for the home game with Wairarapa Bush because as well as Hudson and a doubtful Ulukuta, lock Sonny Woodmass will be away.
West Coast 23 (Regan Stanton, Andrew Connors tries; Tim Priest 2 con, 3 pen) beat Wanganui 17 (Josh Hamilton, Andrew Evans tries; Ace Malo 2 con, pen). HT: 7-10.