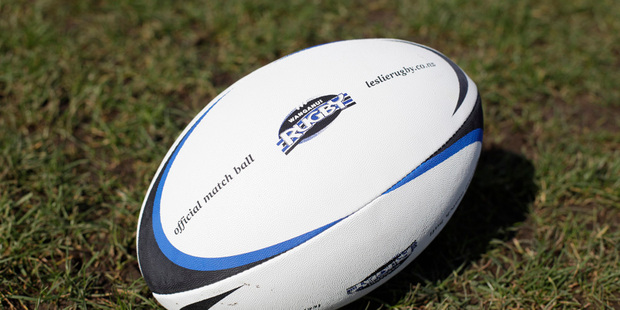 There was an interesting contrast in the team huddles at the conclusion of McCarthy's Ruapehu's 16-14 win over Taihape at a sunny Rochfort Park on Saturday afternoon.
In what proved in essence the first leg of a two-match series, as Taihape will now return to Ohakune this weekend for the Tasman Tanning Premier championship semifinals, the defending champions appeared thoughtful after a scrappy victory – which would have been lost if Taihape fullback Dane Whale's 79th minute penalty attempt from 41m out had not drifted just to the left.
Meanwhile, fronting without some key players while leaving others on the bench, Taihape looked nearly as excited as if they had won the game, given they got a good look at just about the strongest team Ruapehu can muster and held them until the home side's signature late second-half revival.
What remains to be seen is what opposing coaches Chris Winter and Kerry Whale will be able to pull out of their squads in the next six days, given both sides must find ways to minimise lineout issues and accidental offsides with ball in hand, while capitalising better on attacking set pieces inside the 22m zone.
Ruapehu probably dropped more ball on Saturday than in both their Rochfort Park defeats to Integrity Motors Pirates and Waverley Harvesting Border, and while playing without lock Nick Cranston they saw hooker Karl Parker have issues with his throws.
Second-five Tautahi Rawiri was a little wayward with his goalkicking, although he did nail the vital 73rd minute penalty after sustained pressure, which started 10 minutes beforehand with lock Sonny Woodmass crashing over in the wake of Taihape hooker Johnathon Maxwell being sinbinned for impeding the ball.
Ruapehu also played a man down shortly after halftime, when prop Shaun McDonough was binned for a late tackle.
Taihape went to 14-8 after Whale added his second penalty, following on from the first half, where he calmly slotted Premier's second drop goal of the season, the first being by Ruapehu's George Williams in these teams' previous clash.
Ultimately, the home side got home once again on the strong phase build-up in the pack by No8 Andrew Evans, Woodmass and flanker Peter Rowe, while aided by some urgency coming from the bench.
Reserve winger Taina Wallace did well, as did David Gower when he replaced William Short at halfback, which made it a surprise when Short received two points in the MVP allocations, thereby drawing level with Border halfback Lindsay Horrocks to finish the regular season at the top of the standings.
Taihape also struggled with periods of scrappy handling, but they were smart to stay away from Ruapehu's strengths by regularly opting for short lineouts and throwing long passes to each side of the field to make the home team's pack chase them.
Both Whales Dane and first-five Luke along with winger Jaye Flaws were strong, while regular bench-warmers like Maxwell and prop Daniel Te Huia played above themselves in their opportunity to be starters.
"That's how we play, we were lucky it was a nice day," Kerry Whale said afterwards.
He will take concerns with their own lineout into training this week, while hoping Ohakune will turn on another fine afternoon this Saturday, given wet conditions would favour Ruapehu's strength up front.
"It's a two-week project. We looked after a few players today."
For Winter, his side still has the wood on their opposition, but he was well aware they have to find another gear so they perform for much longer periods than 15-minute phases.
"We've been looking all season for that gear, we've had spurts," he said. "Probably that lineout hurt us in the first half.
"There were crucial times we should have gone for [kicking] points a lot more."
Rawiri opened the scoring with a penalty before Taihape caught out Ruapehu with a sweet lineout move near halfway opting for numbers but then throwing short to charging flanker Timi Teepa, which set up the backline spread for Dane Whale to put Jaye Flaws over in the corner.
Ruapehu replied with Parker burrowed across after a sustained 25m of hit-ups from the ruck by Rowe, lock Brad Scarrow, prop Kim McNaught and others.
Dane Whale replied with a penalty, then landed a perfectly weighted drop kick five minutes before the break.
Despite blaring local car horns, Whale added more points not long McDonough's departure and Ruapehu looked concerned at 14-8 in the 54th minute.
But Evans responded as he and centre Logan Vaughan were pushed by their pack in drives close to the line and, after Maxwell got the card, Rowe all but slid over the chalk before the ball was freed for Woodmass to dive over.
More drives and penalties followed to get Rawiri into position for what proved the match winner, but Dane Whale had the opportunity to snatch the match back inside the final minute getting the distance but not quite the accuracy.
McCarthy's Ruapehu 16 (Karl Parker, Sonny Woodmass tries, Tautahi Rawiri 2 pen) bt Taihape 14 (Jaye Flaws try, Dane Whale 2 pen, dg). HT: 11-8 Taihape.
By Jared Smith – WANGANUI CHRONICLE