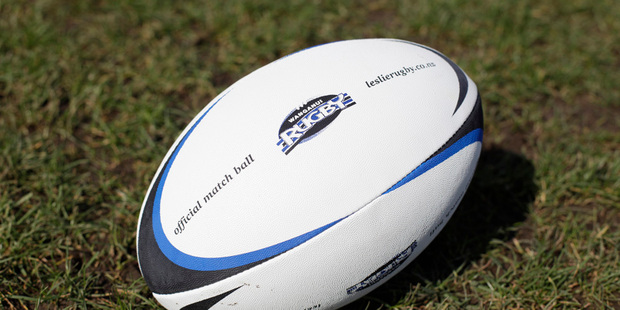 Ascendancy in the northern sub-union remains with McCarthy's Ruapehu but only just, as strong grafting was nearly undone by Taihape's helter-skelter attacking as the defending Tasman Tanning Premier champions held on 23-20 at Rochfort Park on Saturday.
On a weekend of cliffhanger Premier semifinals, Ruapehu stayed barely ahead inside the thrilling final 15 minutes, through the boot of first-five Zyon Hekenui, as Taihape roared home by scoring two late tries through fullback Dane Whale and winger Jaye Flaws.
But the underdogs had left themselves too much work to do after conceding opportunistic tries during the first half, where they switched tactics from the previous weekend and relied on the booming clearances of returning first-five Tom Wells to secure them territory.
Ruapehu coolly defended their 50m zone and slowly turned up the pressure valve through one-off-the-ruck surges and aggressive scrag tackling by the likes of flanker Peter Rowe, hooker Roman Tutauha and halfback William Short.
Dropped ball in the midfield and problems in the lineout continued unabated for both sides, but it was the defending champions, so used to playoff rugby, who capitalised on the errors first.
Going eyeball to eyeball, there were only three times where Taihape blinked and Ruapehu made them pay on each occasion, led by their estimable veteran centre Logan Vaughan.
After good kicks that turned Ruapehu's fullback George Williams around, Wells inexplicably changed tact for a midfield bomb, which Vaughan defused and then sliced through the broken line to set up winger Robert Hughes going over in the corner after 20 minutes.
Hekenui atoned for some poor kicks as Taihape let him scamper free from a scrum feed, finding Vaughan who carried play on and stabbed through a grubber kick which Taihape winger Luke Whale could only carry out.
Ruapehu drove from the lineout for Tutauha to dive over for a signature forwards try.
Shortly before halftime it appeared the home team had struck the killer blow as another backline spread saw them put up a clever chip kick, with Williams calmly holding up for a favourable bounce to make it 17-3 at the turnaround.
But Taihape would not lie down, starting straight after the resumption as Dane Whale brilliantly chipped and regathered twice, setting up forwards Mitchell Overton, Marcus Tottman and Tremaine Gilbert popping risky passes out to Luke Whale, who slid over in the far corner but popped up without forcing the ball to run to the posts.
Cool as ever, Ruapehu spent the rest of the third quarter driving for territory, getting Hekenui into position for a 62nd minute penalty and 20-10, then through scrums and mauling they camped at Taihape's corner flag, seemingly certain to barge over for the matchwinner.
However, urged on by their supporters on the far side, Taihape held up Short and Tutauha, then got the clearing penalty and began to spin the ball at every opportunity.
Dane Whale got a loose pass close to the Ruapehu line, but glided through some uncharacteristically poor Ruapehu tackles to score, 20-15 with 12 minutes left.
Furious with the lapse, Vaughan and Rowe swarmed the kickoff and forced the turnover, earning a penalty as Hekenui again raised the flags take their side back out of reach.
Yet the pendulum swung again as Taihape survived another 20m Ruapehu rolling maul, before Jeremy Gilbert and Cyrus Paringati combined to send Flaws cutting through.
Defending in front of the posts, Ruapehu had a reserve forward sinbinned and then Flaws collected a wild pass from Dane Whale but showed impressive strength to get the ball down as he was being pushed out in the corner.
With just two minutes left, Ruapehu tried to keep Taihape pinned in their half but Vaughan made a rare fumble, giving Wells, Flaws and the Whales boys a last grasp as the ball travelled sideline to sideline.
But Vaughan redeemed as he ripped possession away and Ruapehu kicked it out for fulltime.
"He leads every week, he's been a standout every week," said Ruapehu coach Chris Winter in praise of Vaughan. "But we talked about leaders during the week. We put the onus on every single one of us."
Winter said he aged about 10 years for every minute in the final moments as Taihape's helter-skelter style "definitely" had them worried.
To have once again gone so close to ending a 22-game losing streak with their neighbours, Taihape coach Kerry Whale felt there was nothing they would have changed about their strategies this week – it truly was a semifinal that could have gone either way.
"That's how we play, it was just inaccurate too often. We didn't carry into the contact too confidently, and that's [Ruapehu's] area. This game was 46-8 last year, so we take a little bit out of it."
While their fourth-placed finish mirrors 2013, a strong training regime and gaining experience have seen Taihape come on considerably this season – beating Pirates and Border in the second round while no defeat to the any Top 4 side was by more than six points.
Whale must now focus on retaining the core of the squad and finding more, as lacking depth on the bench was his team's main problem in 2014. "That's the challenge for a small country team. It's a pretty young side."
McCarthy's Ruapehu 23 (Robert Hughes, Roman Tutauha, George Williams, tries, Zyon Hekenui 2 pen, con) bt Taihape 20 (Luke Whale, Dane Whale, Jaye Flaws tries, Dane Whale pen, con). HT: 17-3.
By Jared Smith – WANGANUI CHRONICLE
---