However, the Barbarians fought back hard in the second half, to score 28 points and finish the tournament with a strong display when they enjoyed the benefit of the breeze.
New Zealand Under-20s coach Tabai Matson said the new tournament had been a phenomenal week with a high standard of play. The quality and intensity of play was amazing, he said.
Selecting the side to contest the world Under-20 championship was going to be a difficult, but good, task, he said.
Highlanders skipper and flanker Sean Withy was named the player of the tournament, securing the Sir John Graham Trophy for his efforts.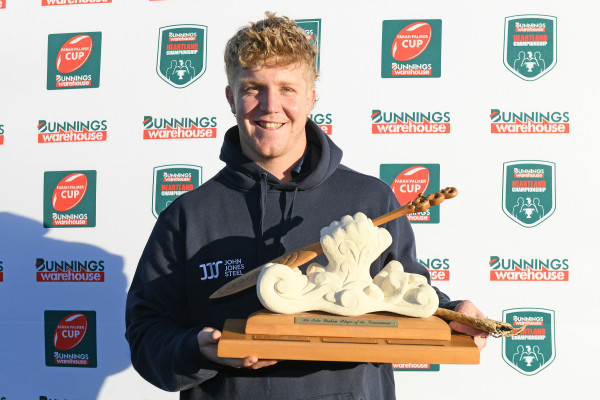 The Highlanders first five-eighths Cameron Miller had an outstanding tournament with his goal-kicking but no moment was better than his injury-time penalty goal to beat the Crusaders 25-23. It came on the back of a strong second half effort with the wind at their backs.
Down 3-15 at halftime, they had wanted to contain the Crusaders to no more than 18 points when they had the wind in the first half. Then big No8 Anese Poliko started the momentum towards his side with a try that was followed by a quick braced by replacement back Nathan Hastie.
While second five-eighths Chay Fihaki kicked a late penalty goal that looked as if it would give the Crusaders the win, an infringement 45m out gave Miller his chance and he made no mistake.
The Blues made no race of their final game when blasting the Hurricanes 71-15 in a powerful display which saw 11 tries posted.
Captain Cam Church said the side had been disappointed with their start to the competition and wanted to finish with a strong display.
DAY 3 Scores:
Highlanders 25 (Anese Poliko, Nathan Hastie 2 tries; Cameron Miller 2 con, 2pen)
Crusaders 23 (Macca Springer 2, Corey Kellow tries; Chay Fihaki con, 2 pen)
HT: 3-15
Chiefs 69 (Melino Fotu, Curtis Palmer 2, Ioane Moananu 2, Niwa Barlow, Tama Te Aute, Havila Molia, Kali Vaiplulu, Gideon Wrampling, Josh Bartlett tries; Josh Jacomb 7 con)
Barbarians 28 (Jamie Hannah, Jackson Rainsford, Rowan Slater 2 tries; Louis Bartley-Saena 4 con)
HT: 45-0
Hurricanes 15 (Kyle Brown, Peter Lakai tries; Aidan Morgan con, pen)
Blues 71 (Vaiolini Ekusai, Corey Evans 2, Sofai Maka 3, Jacob Ratumaitavuki-Kneepkens, Sage Shaw-Tait, Josh Beehre, Manu Paea, Ray Sua tries; Jock McKenzie 6 con; Christian Stenhouse 2 con )
HT: 8-38